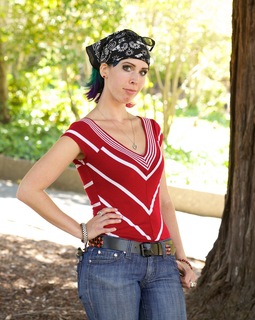 I just finished a big two-month project for a Northern CA credit union, and I did not use TTL flash once for my strobe lighting. Instead, I relied my manual flash rig that's been serving me well the last year or so.
I've never been happier. The results have never been better.
---
My photo assistant, Leah, posing while I test my lighting on location for a client assignment. I used the manual flash rig described in this article.
---
I cover the gear and techniques I use in the article, Manual Flash in the Digital Age. The concept is simple. Using manual exposure settings for my camera - a Canon 5D Mark II in this case - and variable power settings on a pair of old Sunpak hotshoe flashes, I'm able to capture exactly the lighting effect I want, and enjoy extremely consistent images over the span of hundreds of frames.
Because the camera exposure and flash output is "locked in," I don't have to worry about variances if I recompose, focus on a different part of the composition, or change camera angles. This exposure consistency looks very professional when clients review the proofs.
If you want to learn more about this technique, and possibly put into use those old strobes stashed in your closet, take a look at Manual Flash in the Digital Age on the lynda.com Article Center.
---
Recover Photos from Memory Cards
What should you do (and more importantly not do) if something goes wrong with your camera's memory card? Help is on the way! Check out my lynda.com title, Recovering Photos from Memory Cards, and save those valuable pictures.
Want to Comment on this Post?
You can share your thoughts at the TDS Facebook page, where I'll post this story for discussion.