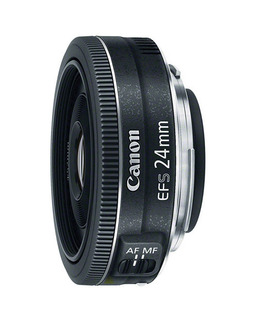 When Canon announced its compact EF-S 24mm f/2.8 STM lens for $149, the only real question was its performance. And now we have more information about that too.
PhotographyBlog reports in their post, Canon EF-S 24mm f/2.8 STM Review:
"Image quality is very good. Centre sharpness is excellent even at the maximum aperture, and almost as impressive at the edges of the frame. Chromatic aberrations are fairly well controlled, although there's obvious vignetting at the maximum aperture and some barrel distortion too. The lens doesn't ship with a hood, although it didn't really exhibit any unwanted flare effects."
They went on to give it 4.5 stars, stating that "We can strongly recommend the Canon EF-S 24mm f/2.8 STM as an extremely small and lightweight prime lens for APS-C DSLR owners that won't break the bank."
I think this optic would be particularly attractive to Rebel and 70D owners. You can read all the details for yourself over at PhotographyBlog.com.
Want to Comment on this Post?
You can share your thoughts at the TDS Facebook page, where I'll post this story for discussion.