The updated Flickr iOS app for the iPad looks so nice that you could almost say it was worth the wait. But what a wait it's been.
Like many other users of the online photo sharing service, I wasn't enjoying the beautiful work by those I followed often enough. In large part, it was because Flickr for iOS just wasn't compelling on my iPad mini.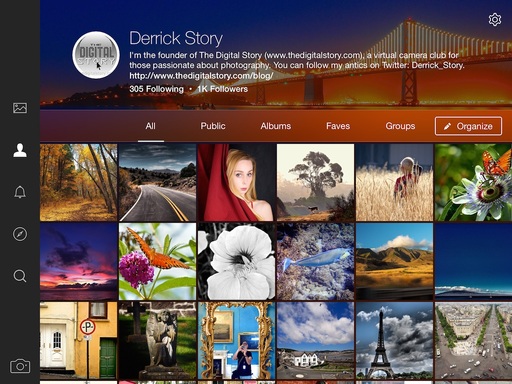 Flickr 3.2 on an iPad mini.
That's changed now. Both the presentation of my photos, and browsing those of others, is greatly improved. In short, Flickr on an iPad now looks like an iPad app, not an iPhone program stretched 2X for a tablet.
Other goodies include improved organization tools, integration with iOS 8 Share Extension capability, and a bump in performance.
If you already have Flickr on your iPad, the app will automatically update. If you've held off on using Flickr on your tablet, you should give this a look.
Better late than never.
Flickr 3.2 requires iOS8 and is available for free in the iTunes App Store. Compatible with iPhone, iPad, and iPod touch. This app is optimized for iPhone 5, iPhone 6, and iPhone 6 Plus.
---
Flickr Essential Training 2013 - I explore the entire Flickr universe, mobile and computer, in my lynda.com title, Flickr Essential Training. Stop by and take a look.
Want to Comment on this Post?
You can share your thoughts at the TDS Facebook page, where I'll post this story for discussion.