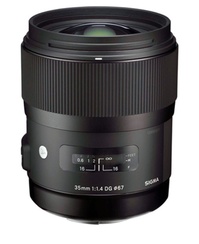 DPReview has published their test results of the new Sigma 35mm f/1.4 prime lens, and it has increased my desire for this glass.
They conclude: "The Sigma 35mm F1.4 DG HSM is a truly excellent lens, that performs as well in the field as its superb lab test results suggest. With fast silent focusing and solid build, its lower price makes it a compelling alternative to the camera manufacturers' equivalents if you don't need weather-sealing."
The Sigma 35mm f/1.4 is currently available for $899 for Canon, Nikon, Sony, Pentax, and Sigma lens mounts.
I have its older cousin, the Sigma 50mm f/1.4, and I love it. If the fates someday shine on me, would like to add the 35mm f/1.4 to my kit.
---
The Digital Story on Facebook -- discussion, outstanding images from the TDS community, and inside information. Join our celebration of great photography!
---