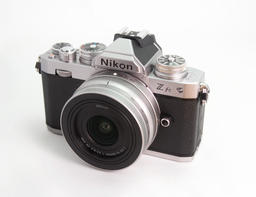 It has been an interesting month with the Nikon Z fc mirrorless camera. Usually after the first week of shooting, I'd have a definitive "thumbs up" or "thumbs down" decision about the camera. But that's not the case with this Nikon. I'm still undecided.
One of the issues is, "How would I use it?" The Nikon Z fc isn't feature-rich or rugged enough to replace one of my cameras for professional work. It's a tad too big for my bang-around shooter (certainly won't displace the Fujifilm X100V). And the Z DX lens catalog can't challenge the optics available for my Micro Four Thirds cameras. So in my case, it's a man without a country.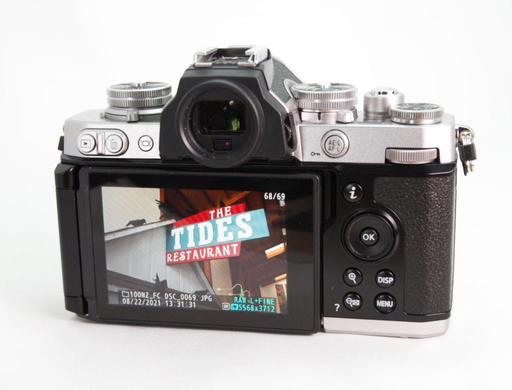 All photos of the Nikon Z fc, or with the Z fc, by Derrick Story.
That doesn't mean that's the case for you. If you're moving from a smartphone-based workflow to an interchangeable lens camera, this Nikon could be wonderful. If you want something fun, beautiful, and capable for travel and family, again, this could be the ticket, especially if you don't already have a camera filling that role.
When I was trying to figure out my indecisiveness with the Z fc, I decided to make a pros and cons list. This might be useful for you as well if you're considering this handsome devil.
The 5 Things I Like about the Nikon Z fc
Easy on the Eyes - Nikon did a bang-up job designing the Z fc. Its homage to the golden age of 35mm SLRs is very appealing. If I didn't already own film Nikons, I might buy this camera just for the looks.

Impressive Image Quality - Even with the kit DX 16-50mm zoom, my Jpegs and RAWs looked terrific. Wonderful color saturation, great detail, and an all-around pleasing vibe to the photos.

A Gorgeous Electronic Viewfinder - The specs are competitive: 2,360,000 dot resolution, 100 percent viewing, -3 to +3 diopter, and 20mm viewfinder eye point. But what I really like about this EVF is how the world looks through it. Everything seems more beautiful. And the readouts along the top and bottom edges are clean and legible. Well done.

Excellent Kit Lens - The Nikkor 16-50mm f/3.5-6.3 is compact, capable, and looks great on the camera. The optical stabilization works well, it accepts affordable 46mm filters, and it collapses to a relatively compact size. Plus the pictures it produces are excellent. And as a bonus, it has a very useful 7.9" minimum focusing distance that allows for tight framing of subjects.

Realtime Exposure Compensation - Yes, there is an EC dial on top that looks cool, but isn't so convenient to use. The dial does, however, have a "C" setting that allows exposure compensation to be adjusted with the knurled rotation wheel that's located right below the shutter button. Now that's what I call good design.
So this all sounds pretty good, doesn't it? What's holding me back from charging $1,096 to my Payboo card for the camera and lens?
A few things do come to mind...
The 5 Things I'm Not Crazy About
Unfinished Design - If you're going to make a throwback camera, go all the way. The textured grip material feels cheap and doesn't measure up to the leatherette feel that's expected. The plastic battery door most likely won't last as long as the rest of the camera. And why not give us a cool mechanical cable release socket in the shutter button? (We know it can be done, both my Olympus PEN-F and Fujifilm X100V have it.)

No Sensor-Based Image Stabilization - Half the fun of this camera could be adapting a variety of vintage Nikon lenses to it and really capitalizing on its design and mirrorless mount. Instead, if we want IS, we have to buy Nikkor VR optics (of which there's not much choice in the Z DX mount).

No Built-In Flash Either - So, what exactly are you doing with that hump on top of the camera? It doesn't contain image stabilization or a built-in flash? What is it for? If this is going to be a bang-around camera for travel and family, then a fill-flash would be greatly appreciated.

It's Hard to Hold! - There is absolutely nothing to hang on to on the right side of the camera. And the texture material I discussed earlier compounds the problem. There will be an accessory grip that costs more than $100, or 3rd party options for less. But why not give us a camera we can hang on to out of the box?

Weird, Unreadable F/Stop LCD - In theory, I like the idea of having an unobtrusive LCD on top to see what the f/stop is, but this pill-size window is difficult to read. It might work if Nikon gave us a backlight for it. But as is. No bueno.
The Bottom Line
A cool-looking camera that takes great pictures should be a winner. And for many folks, the Nikon Z fc will handsomely fulfill its duties as a high-quality alternative to smartphone photography.
But competition for $1,100 is tough, and to succeed, functionality and quality need to match the clever original concept. I could see this camera doing very well if Nikon puts the effort into refining it. But as is, it's facing stiff competition from Fujifilm and others who have alluring offerings in the same price range.
I'm going to think on it some more.
Product Links and Comments
There are product links in this article that contain affiliate tags. In some cases, depending on the product, The Digital Story may receive compensation if you purchase a product via one of those links. There is no additional cost to you.
You can share your thoughts at the TDS Facebook page, where I'll post this story for discussion.