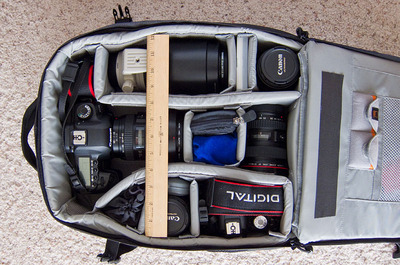 The Lowepro Pro Runner 300 AW is a photo backpack that holds the essential gear I need while working in the field, but it has a slim profile enabling me to work less obtrusively in urban environments. Yet, the Pro Runner has all of the features I need for shooting in the rugged outdoors.
As the photography evangelist for Lowepro, I get to test a variety of bags. In my last review, I put the Lowepro Fastpack 250 through its paces. The Fastpack remains one of my favorite combination backpacks (laptop and photo gear), especially for light jobs that require air travel.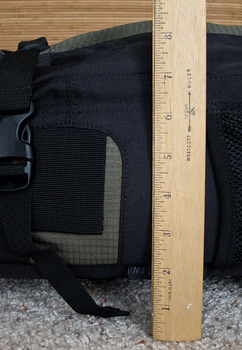 The Pro Runner 300 AW fills a different need. It holds primarily photo gear (although the iPad may change that) and is used for more intensive photography jobs, or for situations when I can take two bags -- one for photo gear and another for computer stuff. Above all, what I really like about the Pro Runner 300 AW is its slim profile that allows me to tote it just about anywhere, even on a crowded city bus.
Right now I'm preparing for a busy month of travel in February, going to Macworld, NANPA, and PMA. I'll be shooting in a variety of conditions, from urban streets to Eastern Sierra trails. Here's what I have packed in my Pro Runner for the trip:
Canon 5D Mark II and Canon T1i DSLR bodies
5 lenses: 70-200mm f/4, 24-105mm f/4, 17-40mm f/4, 85mm f/1.8, 18-55mm T1i kit lens and 1.4X Canon tele extender
Canon 270EX flash
Polarizing filters, ExpoDisc, batteries, and memory cards
24" PhotoDisc
Monopod in the outside tripod holder
Model releases, pens, small personal items
The backpack has a sturdy handle on top making it easy to pick up or grab out of a storage compartment. The harness system is very comfortable, capable of day-long treks, but it isn't bulky. I think this is a big deal, especially when working in the city. For example, I like having the belly band when I'm hiking, but it often gets in the way for street work. With the Pro Runner 300 AW, I can stash the belly band in the bottom AW compartment so it isn't visible at all. If I need it for a longer haul, it's easy to pull out and use.
Speaking of the All Weather cover, it adds an extra level of moisture protection in rain and snow. Other Pro Runner niceties include two side mesh pockets, outside tripod harness system, and sliplock sleeves.
The backpack is available in both black and pine green with black accents. I prefer the pine green model. It's quite handsome. The Lowepro Pro Runner 300 AW is available for $149.95 US. If you need to carry a lot of gear, but want to be nimble, take a look at it.