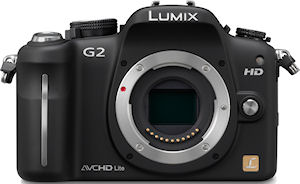 The world of Micro Four Thirds is a busy one. On the heels of Olympus announcing its Olympus PEN E-PL1, Panasonic unveils two new cameras: the high end Panasonic LUMIX G2, with its 3" 460,000-dot high-resolution LCD touch screen, and the more affordable Panasonic LUMIX G10 that features a 202,000-dot Live View Finder.
Both cameras stick with the standard 12 MP resolution, but the G2 gets a processor upgrade, using the new Venus Engine HD II. We don't have pricing or release dates yet, however, Panasonic will give us a 30-day heads up for both cost and availability. My guess is that it won't be too far down the road.
You might also want to note that this week's TDS podcast is on the Micro Four Thirds system. That show will be released Tuesday morning, March 9, 2010.
---
The Digital Story Podcast App is the best way to stream or download weekly TDS podcast episodes. No more syncing your iPhone or iPod Touch just to get a podcast. And there's more! Tap the Extras button for free passes and discounts, the latest blog posts from The Digital Story (audio versions), and the current Grab Shot by our virtual camera club members. Each podcast episode has its own Extras button, too, that contains more goodies such as pro photo tips. And the best part is, The Digital Story Podcast App is your way to help support this show.Download it today!
-
---