For your next event shoot, say a pro basketball game, which would you rather have: a 280mm f/4 on a 21 MP body, or a 270mm f/2.8 on a 12 MP body? Now here's the real question: which one do you think has the best odds of getting in the arena?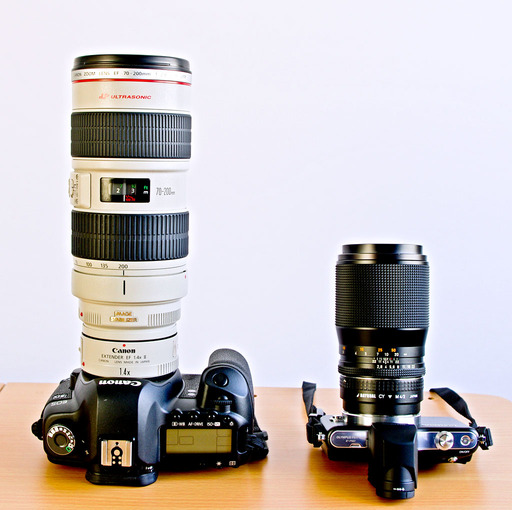 Left - Canon 5D Mark II, 20-200mm f/2.8 zoom, 1.4X extender. Right - Olympus PEN E-PM1 with Carl Zeiss 135mm f/2.8 prime lens.
For tonight's game, I'm choosing the Olympus Pen E-PM1
(camera on the right, 12MP, 5 FPS) with a Zeiss 135mm f/2.8 using a Rayqual micro 4/3rds adapter. When I shoot micro 4/3rds, I can double the effective focal length of any lens I mount on the body. And since the Olympus PEN Mini has image stabilization built-in, the lens is automatically stabilized.
If I don't get turned away at the door, I hope to have sample shots for you tomorrow.
---
The Digital Story on Facebook -- discussion, outstanding images from the TDS community, and inside information. Join our celebration of great photography!
---