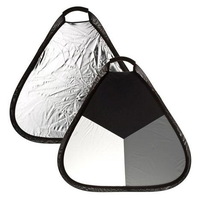 I love working with disc reflectors, but I don't always have an assistant to hold them for me. I found the Flashpoint 24" Triangular Collapsible Disc that has a rigid design and can be held by one hand. It's silver on one side, providing lots of fill light. And on the other side it has black, white, and gray segments that can be used for establishing exposure and for color balance in post.
And the best part is, the Flashpoint 24" collapsible reflector is currently available for $19.95 from Adorama. Seems like a good accessory for your camera bag, or an excellent gift for that photographer friend of yours.
---
Find great deals at the TDS Photography Store on Amazon.
---