Nimbleosity knows no bounds.
I've been reading and thinking about the 2-lens approach to urban travel photography. The idea is that, we don't need a catalog of glass with us when we are shooting with just one or two optics anyway. And thanks to the major improvements in digital zoom technology, if we need a little more reach, that 84mm zoom can become 168mm with just the press of a button.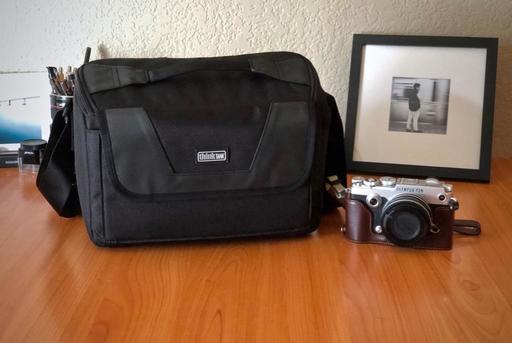 The basic approach goes something like this. Pack one fast prime lens and one versatile zoom. In my case, I'm bringing to New York the handsome Olympus PEN-F with the 14-42mm EZ zoom and the workhorse Panasonic Lumix G 20mm f/1.7.
Factoring in digital zoom if I need it, those two optics give me 28mms on the wide end, 168mm telephoto reach, and a maximum aperture of f/1.7. Not bad for a couple of pancake optics that fit in the front pocket of my pants.
You may have noticed in the article title that I wrote "2.5 lens concept." That's because I do have one addition to this dual optics approach: the Olympus Fisheye Body Cap 9mm f/8. After all, technically, it's a body cap, right?
The thing about urban photography, at least for me, is that I need width more than length. I rarely use telephotos for street shooting, but there are many situations when I want to get more in the frame. The 28mm wide end of the zoom covers most of those subjects. But 18mm can be a lifesaver when 28mms just isn't enough. So the "body cap" is coming with me.
And, as along as I am in a confessing mood, I'll also admit that I'm bringing the Fujifilm XF10 compact. It will be in my pocket when I'm not carrying my bag, such as during my business meeting at B&H or when I'm working in the Skylum booth at PhotoPlus.
So there you have it. My 2.5 lens kit + XF10 + iPhone X in New York City. I can't wait to start shooting.
The Apple Photos Book for Photographers, 2nd Edition
Updated for macOS High Sierra, the The Apple Photos Book for Photographers, 2nd Ed.
provides you with the latest tips, techniques, and workflows for Apple's photo management and editing application. Get your copy today!
You can share your thoughts at the TDS Facebook page, where I'll post this story for discussion.