This is The Digital Story Podcast #648, August 14, 2018. Today's theme is "Is the Panasonic TS7 as Smart as it is Tough?." I'm Derrick Story.
Opening Monologue
When I first laid eyes on the Panasonic TS7 digital camera, I knew I had to get my hands on it. And once I did, it felt every bit as good as I imagined. But once you get past its rugged good looks, how does it perform? Does it have the brains to match the body? This is the question that I'll address in today's TDS Photography Podcast.
Is the Panasonic TS7 as Smart as it is Tough?
The Panasonic Lumix DC-TS7 is no lightweight, that's for sure. It feels like a crush-proof camera that can be submerged 100' below the surface of the ocean. And it packs some pretty powerful specs as well. But in the field, does it live up to its promise?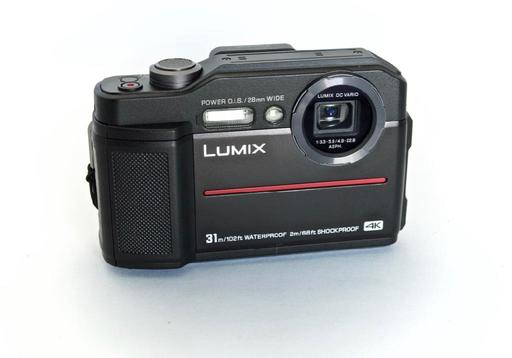 Here are some of the features of the Panasonic TS7 that got me excited:
20.4MP High-Sensitivity MOS Sensor
4.6x Zoom Lens, 28-128mm (35mm Equiv.)
UHD 4K 30p and 24p Video Recording
1.17m-Dot Electronic Live View Finder
3.0" 1.04m-Dot LCD Monitor
4K Photo Modes and Post Focus
Now, let's talk about how those features actually worked. And if you're an Inner Circle Member via Patreon, I have a fun video waiting for you that shows you more of what I've discussed here. Jump over there and take a look.
Photographer Typecasting
I was reading a Steve Huff article titled, Amazon 1dX II Scam Update where he was following up to an earlier article about being scammed via Amazon for a Canon 1DX order. But a funny thing happened along the way that caught my ear.
How the Original Canon 5D Stacks Up Against the 5D Mark IV
Via Petapixel, they write:
Photographer Pablo Strong recently did a shootout to see how the original Canon 5D from 2005 stacks up against the latest Canon 5D Mark IV from 2016. The 7.5-minute video above is a report of his findings.
The Canon 5D, which Strong calls "arguably the best deal in photography" when paired with the 50mm f/1.8 II lens, was a camera that helped full frame cameras break into the mainstream. It was the first full-frame DSLR in a smaller, standard camera body and its price tag of $3,300 also set a new standard for how affordable full-frame cameras could be.
The camera is 13-years-old now and can be purchased used for about $350 these days. Pair it with the 50mm f/1.8 II (which costs about $75 used) and you have yourself a full-frame DSLR kit for around $400.
Do You Have a Film Camera that Needs a Good Home?
Over the last year, I've received donations from TDS members who have film cameras that need a good home. What I do is inspect the items, repair and clean as I can, then list them in TheFilmCameraShop where I can find a good home for them. If you're interested in donating, please use the Contact Form on TheNimblePhotographer site. And thanks for you consideration!
Updates and Such
You can become a member of our Inner Circle by clicking on this link or by clicking on the Patreon tile that's on every page of The Digital Story.
B&H and Amazon tiles on www.thedigitalstory. If you click on them first, you're helping to support this podcast. And speaking of supporting this show, and big thanks to our Patreon Inner Circle members:
And finally, be sure to visit our friends at Red River Paper for all of your inkjet supply needs.
See you next week!
More Ways to Participate
Want to share photos and talk with other members in our virtual camera club? Check out our Flickr Public Group. And from those images, I choose the TDS Member Photo of the Day.
Podcast Sponsors
Red River Paper - Keep up with the world of inkjet printing, and win free paper, by liking Red River Paper on Facebook.
Portfoliobox - Create the site that your best images deserve by visiting Portfoliobox. And get a 20 percent discount by using our landing page!
The Nimbleosity Report
Do you want to keep up with the best content from The Digital Story and The Nimble Photographer? Sign up for The Nimbleosity Report, and receive highlights twice-a-month in a single page newsletter. Be a part of our community!
Want to Comment on this Post?
You can share your thoughts at the TDS Facebook page, where I'll post this story for discussion.