Much of the video I capture these days is either from the iPhone or my DJI Spark. In both cases, the content is managed in Photos for macOS. To be honest, it's just more convenient than the other options.
One of the wonderful aspects of HD and 4K movies is the ability to pull a single frame from the footage and use it as a standalone photograph. The quality is quite good, especially for web publishing. And it's easy to do in Photos. Here's a short video on the technique.
Essentially, all you have to do is scrub to the frame you want, then click on the gear icon in the controller. Choose "Export Frame to Pictures" from the popup menu. Photos will send a high quality Tiff file to your Pictures folder.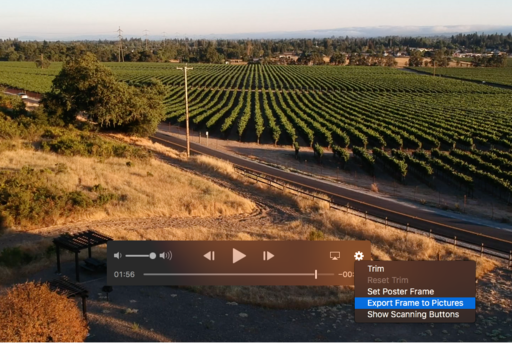 Exporting a single frame from video captured with the DJI Spark. Photo by Derrick Story.
At that point, you can bring the image back into Photos, convert it to a Jpeg with Preview, or make a print. Its file name will be the actual frame number from the video, so you might want to change that. And I recommend bringing the image back into Photos where you can add some metadata and keep it with the original movie.
Exporting a single frame from video is a great option to have as we continue to capture movies with our portable devices. And it's really easy to do in Photos for macOS.
Mastering Photos for macOS
I added a new Nimble Class on Mastering Photos for macOS to my ongoing Nimble Classroom Series. The first session sold out, but seats are available for the November 4th class.
You can also explore the world of modern photography with my The Apple Photos Book for Photographers that features insightful text and beautiful illustrations.
And if you'd like to cozy up to a training video at the same time, watch my latest lynda title, Photos for macOS Essential Training
You can share your thoughts at the TDS Facebook page, where I'll post this story for discussion.