One of the things that I've been doing over the last couple months is learning the ins and outs of Adobe's new Photo Merge that was incorporated into Lightroom CC. And I'm glad I did, because it's fascinating.
Essentially what Adobe created was an all-RAW workflow for HDRs and panoramas. You start with RAW files and end up with a highly editable DNG that you finish off in the Develop module. It's smart, and it works.
And what's even more interesting, is that it works with just two RAW files exposed at -2.0 EV and +2.0 EV. That's all you need. I programmed a function button on my OM-D to quickly capture these sequences, then all I have to do is process in Lightroom CC with all my other files.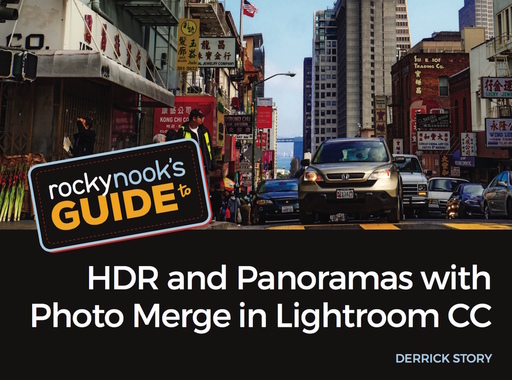 After weeks of testing, I wrote an eBook titled, Rocky Nook's Guide to HDR and Panoramas with Photo Merge in Lightroom CC. In this free guide (yes, free!), I cover the entire workflow for both HDRs and panoramas using your camera and Lightroom CC's editing tools. I think this guide will be very handy for anyone who loves this type of photography, and especially those who want a fast start to learning Lightroom's new star features.
There are plenty of other interesting new tools in Lightroom CC, such as the super handy filter brush. But having a built-in RAW workflow for both HDR and panoramas is pretty exciting stuff.
You can download the eBook here.