This is The Digital Story Podcast #607, Oct. 31, 2017. Today's theme is "The Thrill of Fast Primes." I'm Derrick Story.
Opening Monologue
The best news to come out of Photo Plus Expo for me was the announcement of the new Olympus PRO f/1.2 primes. But Olympus isn't the only one pushing the wide aperture envelope. Fast primes by Fujifilm and other mirrorless camera makers are boosting not only capability, but price and bulk as well. And they are to subject of today's podcast.
The Thrill of Fast Primes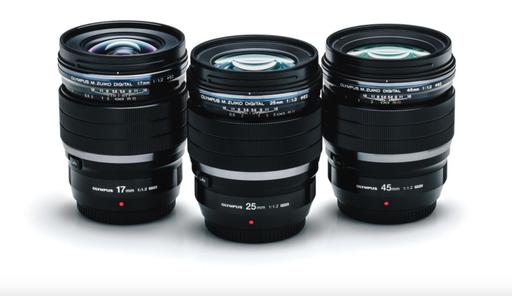 Bigger optics with hefty price tags are the current trend in mirrorless cameras. In many ways, I view these new offerings as the maturation of this product category, not only for Olympus, but Sony, Fujifilm, and Panasonic too. Pros and enthusiasts alike can use these cameras and lenses for their work. Mirrorless has grown up.
What this means for me as a fan of micro four thirds, is that I have tantalizing options for lens selection. I can go compact with modest f/1.8 maximum apertures, or go super fast at f/1.2. So how do I choose? Well first let's take a look at five of these tempting lenses by our favorite manufacturers.
So now, just by way of comparison, let's pick the fast optic that I'm most interested in, the 45mm f/1.2. It measures 2.76 x 3.34" (70 x 84.9 mm) and weighs 14.46 oz (410 g). It has a 9 blade aperture. The smaller Olympus M.Zuiko Digital 45mm f/1.8 lens has a seven blade aperture, costs only $399, weighs in at 4.09 oz (116 g), and measures 2.20 x 1.81" (56 x 46 mm). That's quite a difference.
The bottom line is this, regardless if you're a nimble photographer or pro who needs the very best, mirrorless now provides options for both.
A Review of the TDS Wine Country Photography Workshop
Beautiful weather, friendly world class wineries, and amazing photographers combine for a fabulous 3-day event in Sonoma County. Here are a few of my impressions.
The Digital Story - Digital Photography Public Group on Flickr
We have more than 3,000 members and 73,000 photos on TDS Flickr Public Group. This is the gallery that I peruse on a daily basis. It's also the source for The TDS Member Photo of the Day on our Facebook page and displayed in the Member Gallery on the TDS site.
Share your favorite images there so others in our community can see them. Plus, you never know, you may be selected for the TDS Member Photo of the Day!
Updates and Such
Big thanks to all of our Patreon members!
B&H and Amazon tiles on www.thedigitalstory. If you click on them first, you're helping to support this podcast. And speaking of supporting this show, and big thanks to our Patreon Inner Circle members.
And finally, be sure to visit our friends at Red River Paper for all of your inkjet supply needs.
Texas-based Red River Paper recently announced a new fine art paper, Palo Duro Etching. The new paper is a 100 percent cotton rag paper and is free of optical brightener additives. The paper is designed to offer warm white tones, deep blacks and a subtle texture to accurately recreate traditional darkroom fine art prints.
See you next week!
More Ways to Participate
Want to share photos and talk with other members in our virtual camera club? Check out our Flickr Public Group. And from those images, I choose the TDS Member Photo of the Day.
Podcast Sponsors
Cascable - Cascable is the best tool available for working with your camera in the field.
Red River Paper - Keep up with the world of inkjet printing, and win free paper, by liking Red River Paper on Facebook.
The Nimbleosity Report
Do you want to keep up with the best content from The Digital Story and The Nimble Photographer? Sign up for The Nimbleosity Report, and receive highlights twice-a-month in a single page newsletter. Be a part of our community!
Want to Comment on this Post?
You can share your thoughts at the TDS Facebook page, where I'll post this story for discussion.