This is The Digital Story Podcast #582, May 2, 2017. Today's theme is "5 Unique Trail Tips for Day Hikers" I'm Derrick Story.
Opening Monologue
Spring is in the air, and the allure of the great outdoors calls to our spirit of adventure. What a pleasant thought after a long winter: bubbling mountain springs, picnics beneath a shady tree, and expansive vistas to ponder and photograph. But Mother Nature isn't just flowery meadows and puffy clouds. So a little preparation goes a long ways toward a safe and satisfying adventure. And that's the first story in today's TDS Podcast.
5 Unique Trail Tips for Day Hikers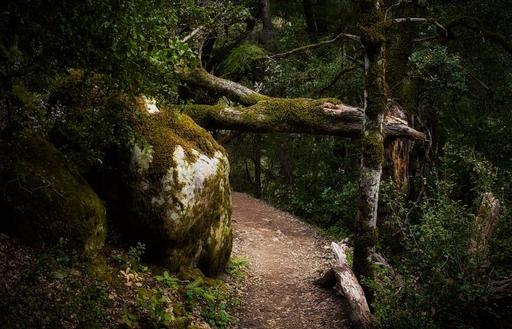 I've been strapping on my day pack since I was in grammar school. I completed my first 50 mile hike when I was 11 years old. By the time I was 17, I had earned the rank of Eagle Scout and was spending my summers as a counselor and guide for camp in the Sierras.
These days, I hike with my boys and my camera. I'm not as fast up the mountain as I once was, but I still enjoy outdoor life. And a big part of that comes from being prepared and staying nimble.
In that spirit, here are five tips that I find myself sharing often with those who I spend time on the trail with.
Learn the good plants from the bad ones - In California, we have a lot of Poison Oak and Stinging Nettle. At the beginning of the hike I remind folks that "leaflets three, let it be" to avoid bring home a nasty souvenir from the day's activities. On the other hand, leaves from a Bay tree make a pleasant natural insect repellant, and Miner's Lettuce can serve as a refreshing afternoon snack.

A little food and a lot of water - Don't bother packing a lot of food for a day hike. The activity will usually keep your appetite at bay, that is until the hike is over and you're suddenly starving. But you need at least one liter of water, per person. So a couple snack bars or a peanut butter and jelly sandwich and a HydroFlask of H2O should get the job done. No drinking out of streams, ever.

Protective clothing works on many fronts - High tech fabrics these days are amazing. You can wear a long sleeved shirt that provides sun protection equal to SPF 50, keeps the bugs off your neck and arms, and provides an additional barrier from plants and rocks. Plus, much of this apparel helps keep you cool in the heat and warm in the shade. Definitely worth revisiting if you haven't shopped outdoor clothing for while.

Trail shoes over sneakers - Just like outdoor clothing as improved, so have hiking shoes. I look for soles that provide good traction on rocky surfaces, reasonable ankle support, and protection from blisters and hot spots. Plus, if you have to cross a stream and accidentally step off into the mud, you won't ruin your favorite Nikes.

Excess weight is your enemy - When hiking season approaches, I like to lose a few pounds. It's amazing how much easier it is getting up the hills. Plus, I keep my packing weight to a minimum. One camera, two snack bars, water, and the 10 essentials are all I like to carry.
Great Deal on a Panasonic Lumix GM5
Normally, I sell my used gear on Amazon Marketplace. But for some reason, they won't allow me to list my Panasonic gear there. So I'm offering up a great deal on my Lumix GM-5 with 12-32mm Panasonic Zoom in the Nimble Store. This model has the attractive red leather, which is quite handsome against the black satin finish of the camera. Everything is in beautiful shape, and includes all original accessories in the original box. If you're interested, you can purchase the camera in the Nimble Store for $399.
Final Schedule Set for Norther CA Coast Tour
We have one seat open for the The Northern CA Coast Tour - May 18-20, 2017. Check out this list photo spots:
Armstrong Woods
Goat Rock
Ft. Ross State Park
Still Water Cove Regional Park
Kruse Rhododendron State Natural Reserve
Salt Point
Ocean Cove Lodge
If you're interested in registering, visit the Registration Page and sign up!
Photojournalists reveal their favorite publications to work with and what they pay
DP Review reports: "Columbia Journalism Review recently surveyed a group of photojournalists on their favorite publications to work with based on several criteria, including arguably the biggest one - pay. As a result, they've published an article revealing the day rates for some top publications as well as some insight into other factors, such as balancing a lower day rate with exposure to a wider audience."
"So by the numbers, how do top publications stack up for freelance photographers? CNN comes out on top with the best day rate at $650, though National Geographic is close behind with typical rates between $500-650. Harper's Magazine's rate was hard to pin down but reported rates varied from $500 up to $1000 per day."
"The New York Times' recently boosted rate of $450 per day makes it more competitive with the top-paying outlets, but CJR notes that the photographers they spoke with acknowledged the Times' wider reach and top-notch editorial staff go a ways to compensate for the lower pay. Coming in with the lowest day rate of the bunch is the Washington Post, offering $350."
Updates and Such
Big thanks to all of our Patreon members! I was able to pay for the podcast server and the backup system from last month's pledges. Your contributions are making a positive impact.
Registration invitations have gone out to Reserve List members for the Autumn in Wine Country Photography Workshop. If you are on the Reserve List, but didn't get your invite, please contact me. You can learn more about the workshops by visiting the TDS Workshops Page.
B&H and Amazon tiles on www.thedigitalstory. If you click on them first, you're helping to support this podcast. And speaking of supporting this show, and big thanks to our Patreon Inner Circle members.
And finally, be sure to visit our friends at Red River Paper for all of your inkjet supply needs.
See you next week!
More Ways to Participate
Want to share photos and talk with other members in our virtual camera club? Check out our Flickr Public Group. And from those images, I choose the TDS Member Photo of the Day.
Podcast Sponsors
MeFOTO Air Tripods - MeFOTO Air Tripods are a nimble photographer's dream.
Red River Paper - Keep up with the world of inkjet printing, and win free paper, by liking Red River Paper on Facebook.
The Nimbleosity Report
Do you want to keep up with the best content from The Digital Story and The Nimble Photographer? Sign up for The Nimbleosity Report, and receive highlights twice-a-month in a single page newsletter. Be a part of our community!
Want to Comment on this Post?
You can share your thoughts at the TDS Facebook page, where I'll post this story for discussion.