I've started using the 2X digital zoom function on all of my Olympus OM-D cameras. By doing so, I am able to use a fast prime lens, such as the fabulous Olympus M. Zuiko Digital ED 45mm f1.8 at wide apertures, then double its magnification without losing any light gathering power.
In the field, this means that I can work at an effective focal length of 90mms or 180mms at f/1.8. The question is, how much am I giving up by using the 2X digital zoom?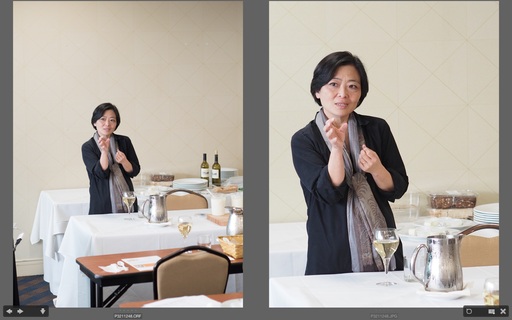 Side by side comparison of the RAW file at 45mm (left) and the Jpeg at 90mm (2X digital zoom) on the right. Images opened in ACR 8.8 with no adjustments.
For my real world test, I shot in RAW+Jpeg with the Jpeg mode set to Super Fine on an Olympus OM-D E-M5 Mark II with the 45mm lens set to f/2.2. I was able to keep the ISO at a reasonable 800, and I used +1 exposure compensation, giving me a shutter speed of 1/100th.
The RAW file dimensions are 3456 x 4608 with a file size of 15.31 MBs. The Jpeg has the same 3456 x 4608 measurements, and weighs in at 5.16 MBs. I opened both images in ACR 8.8 on a 15" MacBook Pro with Retina Display and captured these screen shots.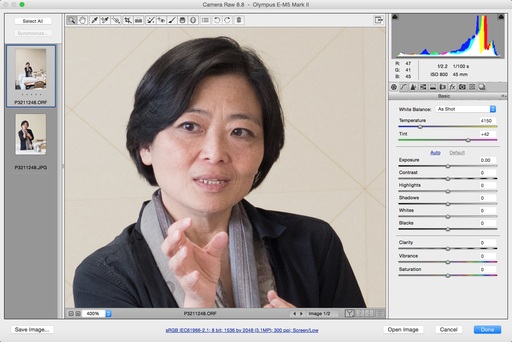 RAW file at 400 percent.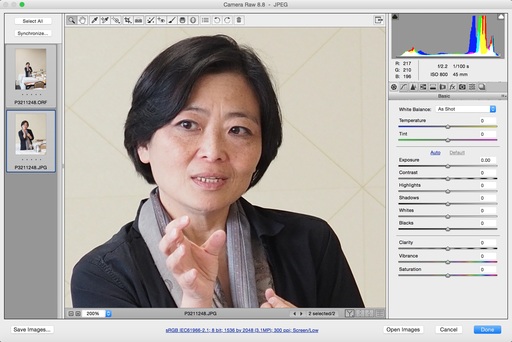 Super Fine Jpeg with 2X digital zoom at 200 percent.
Bottom Line
The 2X digital zoom fares well against its RAW file companion. The RAW file has not been processed, so it has more to offer in post production. The Jpeg can be published as is without further work.
I've set a function button on all of my OM-D cameras to toggle the digital zoom on and off. By doing so, I can shoot more with my prime lenses, knowing that I can zoom in without having to change the glass.
For critical work, I'll probably stick with RAW only. But for my street shooting, photojournalism, and event photography, I'm loving the 2X option. In fact, in these shots, I like the Jpegs better.
Want to Comment on this Post?
You can share your thoughts at the TDS Facebook page, where I'll post this story for discussion.