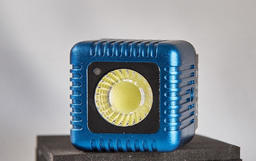 I've been following the development of Lume Cube ($79.99) through its Kickstarter launch. The product has evolved considerably over that period (check out the early images of the device in press releases), and I was pleasantly surprised when I received mine in the mail last week (in beautiful Kickstarter blue).
The Lume Cube Apps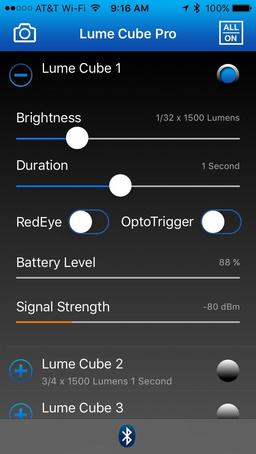 Lume Cube is a powerful 1500 Lumen LED light that's controllable via iOS or Android apps. There are two versions of the software available, basic and pro. The basic app is free and the pro will set you back $2.99.
I've worked with both. Lume Cube (free) has brightness control from 1-100 percent, red eye prevention, auto sync, and a battery level indicator. The pro version ($2.99) however, has settings for brightness, duration, red eye prevention, OptoTrigger, battery level, signal strength, and the ability to fire up to five Lume Cubes. Both versions have a built-in camera function and video recorder.
The iOS app is actually one of my favorite features of this device. It's well-designed and easy to use. It allows for near-instaneous connection to the Lume Cube, and sets it apart from many of the portable LED lights on the market. In my opinion, don't even mess with the free version. Pony up the $2.99 and use Lume Cube Pro. It's worth the investment.
The Lume Cube Light Specs
As I mentioned earlier, the Lume Cube can pump out 1500 Lumens, which is so bright that they have to include a warning notice reminding you not to look directly at the light when set to a high brightness level. The color temperature is a bit on the cool side, 6000K. The integrated battery is robust, and when it does need charging, use the included USB cable to connect to a power source for replenishing. The Lume Cube is also waterproof to 100'. So there's no need to worry about using it in adverse weather conditions.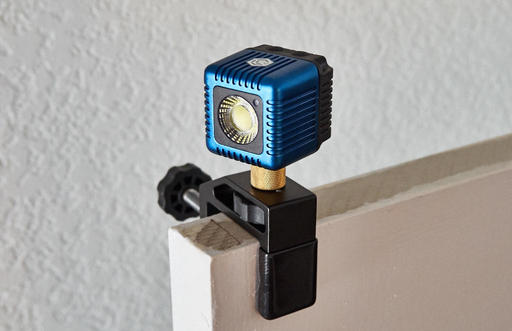 Using the Lume Cube
The integrated tripod socket makes it easy to connect the Lume Cube to a variety of stands and grips. And since it's Bluetooth controlled, you can leave it where it's positioned and change the settings from your mobile device.
It syncs nicely with its built-in camera app. I leave the duration set to 1 second. I would really like to sync the Lume Cube with my iPhone's Camera app, but currently it only syncs with the Lume Cube or Lume Cube Pro software. That being said, it works quite well with both of those.
I also like that the device includes a light sensor so it can serve as a slave for off-camera flash with my OM-D E-M10 Mark II. The problem is that the sensor is on the front of the Lume Cube instead of on top as a small dome. It would even be better on the side or in the back. And in my testing, the sensor was not as sensitive as I'd like it to be. So it needs to be pointing right at the master light source to work - not practical in many situations.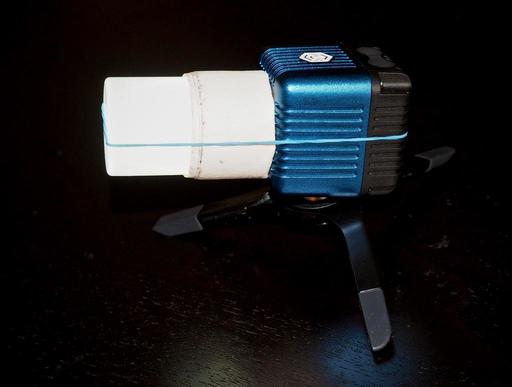 Being a smallish light source, the light can be a bit contrasty. So I carry my film canister diffuser with me, and it works great on the Lume Cube.
Bottom Line
The look, feel, and construction of the Lume Cube is outstanding. It's a work of art. And there's no arguing that the light output is impressive. The Lume Cube Pro app is also well-designed and a joy to use. Battery life is excellent. And the waterproof case is a nice bonus.
I wish the light were a tad warmer, say 5200K. And the slave sensor needs to be addressed in future designs. But aside from those nits, I would say that this supplemental light has dozens of uses with smartphones, digital cameras, and action cams. It's a good value at $79.99.
---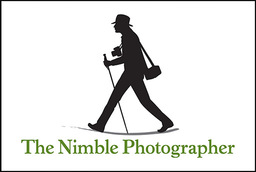 The Lume Cube has a high Nimbleosity Rating. What does that mean? You can learn about Nimbleosity and more by visiting TheNimblePhotographer.com.
Want to Comment on this Post?
You can share your thoughts at the TDS Facebook page, where I'll post this story for discussion.