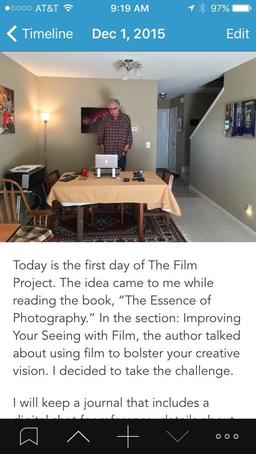 When I decided to embark upon The Film Project, I needed an easy way to create journal entries to accompany my analog images. Since I have the iPhone with me at all times, finding an iOS app seemed like the smart way to go. And what a terrific app I found.
Day One for iOS ($4.99) is handsomely designed software that runs on both iPhones and iPads. I can attach an image to the top of the journal entry, write the information that I want to retain, and even have the weather, location, and date automatically recorded.
I can choose to have the entries backed up to my iCloud account where they are synced across all of my devices, including my Mac if I also purchase Day One for Mac OS X ($9.99).
The workflow goes something like this. I shoot the image with my Contax T2 film camera. I then take a second shot with the iPhone 6S. I open Day One on the iPhone, add the iPhone photo to the latest entry, and type all of the information that I want to retain about the analog shot, such as shutter speed, f/stop, exposure compensation, and details about the composition itself.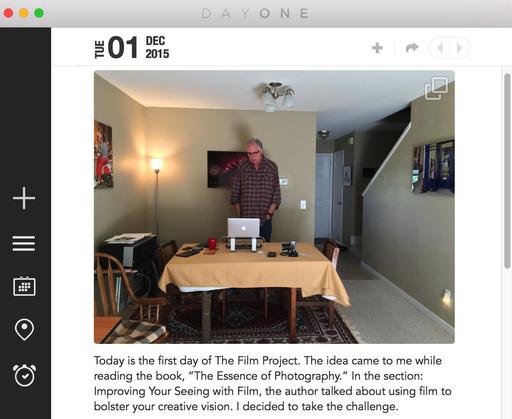 The same entry on my Mac where I can edit, review, and enhance. All of the changes are pushed back to iCloud and appear on my iOS devices.
Then, when the processed film comes back from the lab, I can match up the journal entries to the prints. Plus, I can compare the differences between how the film interpreted the scene compared to the iPhone. The iPhone lens is 29mm wide while the T2 is a more narrow 38mm. So the journal images have a wider aspect, which I like, because it captures the surrounding story too.
The bottom line is this: If you need a well-designed journal application to accompany your photography work, you'd be hard pressed to find a better fit than Day One.
The Nimbleosity Report
Do you want to keep up with the best content from The Digital Story and The Nimble Photographer? Sign up for The Nimbleosity Report, and receive highlights twice-a-month in a single page newsletter. Be a part of our community!
Want to Comment on this Post?
You can share your thoughts at the TDS Facebook page, where I'll post this story for discussion.