This is from a guy who previously would only use Silver Efex Pro for his black and white work, but I've come to appreciate the B&W Adjustment in Photos for OS X, and the optional plugin, Tonality by Macphun.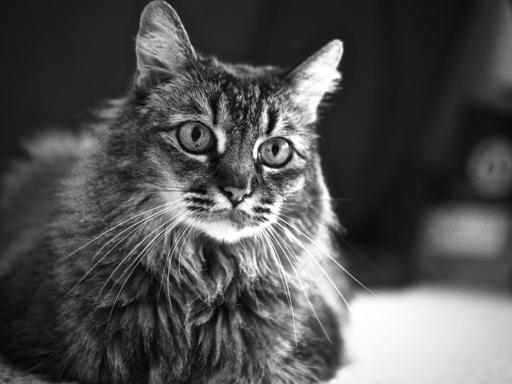 Here's a shot that I'm using for my upcoming book on Photos for OS X. I made some exposure tweaks with the Light Adjustments, then finished it off with the B&W converter. If you're not familiar with what the four sliders do in B&W, this will help you: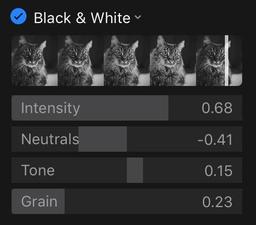 Intensity - If you think about how saturation works for color, that's what the intensity slider does for B&W. As you move the marker to the right, Photos intensifies the tones in the image. If one cube of sugar makes your coffee sweet, two cubes makes it even sweeter. That's what intensity does.
Neutrals - This slider affects the gray areas of the image by lightening or darkening them. For this image, I thought that darkening the gray areas helped create a nice separation from the white markings of the cat, including her whiskers.
Tone - This adjustment could really be called contrast, because that's what it does. Moving the marker to the right increases contrast, and to the left flattens it.
Grain - To complete the film-like B&W effect, we can also add grain. Not only does this provide an analog feel to the image, it can make it appear a bit more crunchy.
Tip: Even though we're applying monochrome effects to our picture, it's still color inside. For example, you can still tweak the tones in your B&W by using the temperature and tint sliders in the White Balance panel. Try it. Photos provides an amazing amount of control for your B&W pictures.
For hands-on tutorials, be sure to take a look at Photos for OS X Essential Training on lynda.com. I cover everything you need to know to get the most from this surprisingly powerful image management application.
More Help and Insights on Photos for OS X
Don't forget about the Photos for OS X Special Feature Section on The Digital Story. It's a roundup of tutorials, videos, and articles focused on helping you master Apple's latest photo management software. You can also find it under Photography in the top nav bar.
Want to Comment on this Post?
You can share your thoughts at the TDS Facebook page, where I'll post this story for discussion.