This is The Digital Story Podcast #561, Dec. 6, 2016. Today's theme is "8 Software Updates That You Should Know About." I'm Derrick Story.
Opening Monologue
Image editing is the other half of the creation process. We have one set of fleeting thoughts when we press the shutter button and record the composition. But later, on our computers, we have the opportunity to refine our vision. This week I talk about the latest developments in that second part of the equation, imaging software.
8 Software Updates That You Should Know About
It may feel quiet on the software front, but there's actually been a fair amount of activity. We'll start with a new release from Phase One, and take it from there.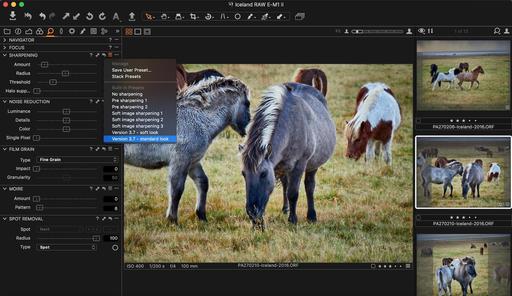 In the News
Metz mecablitz M400 compact wireless flash unit now available - German flash manufacturer Metz has launched a new compact sized flash unit that offers wireless TTL control and coverage to match 24-105mm lenses. First announced at Photokina, the Metz mecablitz M400 has a guide number of 40m/131ft at ISO 100 at the 105mm zoom setting, along with a tilt and swivel head for bouncing the light. The gun is compatible with Canon, Fujifilm, Nikon, Micro Four Thirds, Pentax and Sony multi-interface cameras and offers TTL metering with each. The Metz mecablitz M400 is available now and costs $280.
Free Signed Copy of the Apple Photos Book for Photographers
I have 3 signed copies of The Apple Photos Book for Photographers that I want to give away over the next week. If you'd like a chance to have me send you one of them, all you have to do is tweet something to the effect that the book is now in print and use the hashtag #ApplePhotosBook. Then let me know that you tweeted by sending me your email address to derrick@thedigitalstory.com. On Monday, we'll randomly select 3 from those tweets and notify them.
Updates and Such
Big thanks to all of our Patreon members! I was able to pay for the podcast server and the backup system from last month's pledges. Your contributions are making a positive impact.
The 2017 Workshop Season is posted. I've sent responses to those who signed up on the reserve list. If you haven't received a confirmation yet, please send me mail at derrick@thedigitalstory.com. Reservation forms for the SF Workshop are going out soon.
B&H and Amazon tiles on www.thedigitalstory. If you click on them first, you're helping to support this podcast. And speaking of supporting this show, and big thanks to our Patreon Inner Circle members.
And finally, be sure to visit our friends at Red River Paper for all of your inkjet supply needs.
See you next week!
More Ways to Participate
Want to share photos and talk with other members in our virtual camera club? Check out our Flickr Public Group. And from those images, I choose the TDS Member Photo of the Day.
Podcast Sponsors
MindShift Gear - MindShift Gear is a group of committed professional photographers and product designers who support conservation and protection of our natural resources and planet.
Red River Paper - Keep up with the world of inkjet printing, and win free paper, by liking Red River Paper on Facebook.
The Nimbleosity Report
Do you want to keep up with the best content from The Digital Story and The Nimble Photographer? Sign up for The Nimbleosity Report, and receive highlights twice-a-month in a single page newsletter. Be a part of our community!
Want to Comment on this Post?
You can share your thoughts at the TDS Facebook page, where I'll post this story for discussion.