Faster than a speeding bullet. At least that's the way it feels when traveling on the train between Cologne and Munich, Germany. As a photographer, I much prefer it to flying for a few reasons. First, it's more comfortable. You can ride in First Class on the train for about the same price as economy on a cramped plane. Second, you get to keep all of your luggage with you. No messing around with check-in or weight limitations. And third, it's an amazing view out the window.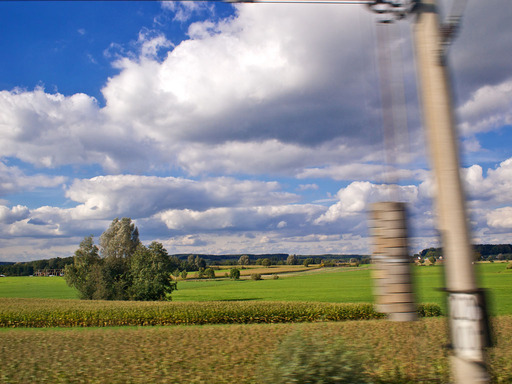 Through the window of a high speed train on the DB Bahn traveling from Cologne to Munich. Click on image for larger version.
I particularly like it when I enter Bavaria coming from Cologne. The countryside is just beautiful. I captured this fun image through the window using my Olympus E-P1 with the 17mm f/2.8 Lens
.
About 3.5 hours later, I was in Munich feeling great and ready for action. Oh, and how fast is fast? Well, the train reached speeds of 180 MPH. That's fast!
---