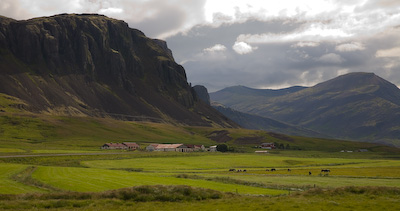 We left Reykjavik Saturday morning and headed north to Reykholt, where we would establish base operations for the next three days. Even though we had done some casual shooting in the city, I could tell the photographers were getting anxious to start working the Iceland landscape. To compound matters, the weather was quite good. So the process of getting organized, packing up, and finally hitting the road was agonizing.
Once we got Reykholt, we had some soup (no one was serving meals in the mid afternoon), and the various factions of photographers scurried in different directions like startled baby quail. Our party shot until 8 pm, had a light dinner, then went out and shot the sunset 11 pm. It's 12:30 am now as I write this post. There's still light in the sky, but not enough for shooting.
Today's shot was captured on the road to Reykholt. I used the Caonon 5D in Raw mode, ISO 100, 1/125th @ f-8, using the Canon 24-105 mm f-4 L zoom. I'm using a custom white balance setting with the help of an ExpoDisc, which I'll talk about more in another post. I'm using only Lightroom to upload, organize, and process these images.
Tomorrow I'm going to catch a ferry out to the islands. If the weather holds, it should be another great day of shooting.
Technorati Tags: digital photography, Iceland, Lightroom Adventure