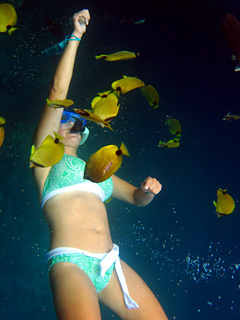 What better place to test the Canon SD700 IS with its $160 underwater housing than in Maui? I caught an early morning Catamaran to the reserve at Molokini and spent the next 3 hours snorkling in beautiful 74 degree water that had about 20 feet of visibility, if not more.
I was very impressed with how easily I could work the controls on the WP-DC5 housing. I used the "underwater" selection from the scene modes and fired away. I could use Canon's bright 2.5" LCD to frame the shots about half the time, depending on the angle of the light from above. Sometimes, the glare and reflection off the housing would wash out the LCD, and I'd just have to guess while lining up a shot. Some of those guesses, however, turned out great.
I also shot topside with the SD700 still in the housing. Those images also turned out well, with no detectable degradation from the camera being inside the housing. This makes the SD700/WP-DC5 combo useful for all sorts of inclement weather, not just underwater.
The housing is rated to 130 feet. I never dove beyond 20 feet, so I can't vouch for the housing's depth rating beyond that. My only complaint was that my right thumb once changed the scene mode from "underwater" to "movie" without me knowing until many minutes later. The dial is positioned where I normally rest my thumb while pressing the shutter button.
Other than that interesting movie digression, I was very satisfied with the results. The shot included here was captured near the reef in Turtle Town, not far from Molokini.
Technorati Tags: digital photography, The Digital Story