The Effects panel from iPhoto has found its way into Aperture's Adjustments tab. It's a bit like the new roommate who brings his HDTV along with the move in to the apartment. He'll also bring a few things that you're not crazy about too.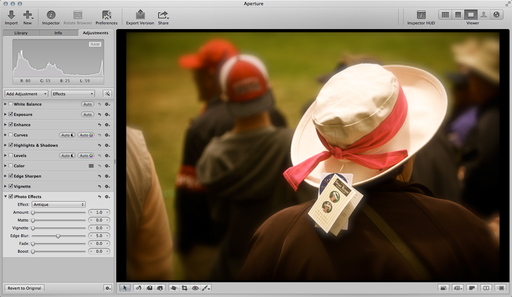 Edge Blur is one of new iPhoto tools that I like. Plus, in Aperture, it's easier to use. I like to apply Edge Blur to throw the background out of focus to direct the viewer's eye to the main subject. When used with restraint, it can be very effective.
Other bonus effects that I like include the Antique filter and the Fade slider. For this image captured at the U.S. Open in San Francisco, I played with Antique and Edge Blur.
I'm not as wild about some of the other iPhoto Effects, such as Matte and Vignette. We already have more elegant versions of them in Aperture. But like the roommate with the HDTV, you get the cool along with the unnecessary.
You can enable iPhoto Effects via the Add Adjustment popup menu in Aperture's Adjustments tab. Once you do, they'll appear as a new adjustment brick, as in the screenshot above. Some of them are fun. Take a look!
Aperture Tips and Techniques
To learn more about Aperture 3, check out my Aperture 3 Essential Training on Lynda.com. Also, take a look at our Aperture 3 Learning Center. Tons of free content about how to get the most out of Aperture.
My next open Aperture Workshop is scheduled for Nov. 2012, in Santa Rosa, CA. You can get on the pre-registration list, plus learn about all the other photography workshops offered this season by visiting the TDS Workshops page.
---
The Digital Story on Facebook -- discussion, outstanding images from the TDS community, and inside information. Join our celebration of great photography!
---