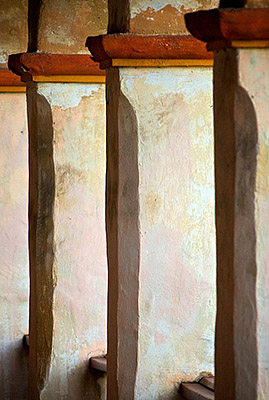 My friend Bruce Heavin stopped by the Lynda.com studio late this afternoon with a trunk full of Canon glass wanting to know if I would go shooting with him. Bruce cofounded Lynda.com, is a terrific artist, and hangs out in our virtual camera club. I was ready to go in about five minutes.
I decided to try the hefty Canon EF 28-300mm f/3.5-5.6L IS USM. It's not everyday that you get to go shooting in Santa Barbara with a $2,300 lens hanging over your shoulder. And what was just as fun, I was toting the Rebel XTi, so I had the crop factor that made the lens a virtual 450mm IS hunk of glass.
Even though it's a solid 3.7-pound zoom that dwarfed my XTi, it's a balanced lens and not that bad to carry around. Actually, its weight makes it easier to steady while shooting.
The focusing is smooth and fast. You can adjust the drag on the push/pull zoom to accommodate your personal taste. I loosened it up for easy zooming, and still didn't have a creep problem. Even though I was shooting into the sun often, I didn't have any flare problems while the lens hood was attached. And the IS is amazing. I was shooting handheld with shutter speeds around 1/180th with the zoom all the way out. The images are sharp with terrific contrast.
I left the 28-300 on my camera body all night, hoping that Bruce would mistake it for one of my lenses. But alas, I had to give it back. I really like this lens, and hope to mount it on the 5D someday.
You can see more images captured with the Canon EF 28-300mm f/3.5-5.6L IS USM on my Flickr photostream.
Photo of the Santa Barbara Mission by Derrick Story.

Events! See the TDS Event Calendar for photography workshops, speaking engagements, and trade show appearances.
---
Technorati Tags: digital photography, Technology, The Digital Story