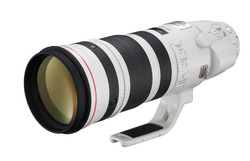 I stopped by the Canon booth at NANPA and chatted a bit with them about their announced Super-Telephoto Zoom Lens At The CP+ Event: The EF 200-400mm f/4L IS USM Extender 1.4x Lens. I was hoping that there might be some new news since Canon officially spilled the beans in February.
When I stopped by, there was no one else around... just in case. But sadly, there was no news about the super zoom that will have a 1.4x tele extender built-in that can be switched on and off. Other than, Canon said it was the most-asked question at the Nature Photography Summit.
Bottom line, still no official word on release date, on estimated price, or on how the built-in tele extender might actually work. If you're interested in learning more about the EF 200-400mm, there's a pretty good article about it on The-Digital-Picture.com.
---