Do you know why iPhoto for iOS adorns your library shelf with albums that are blue, tan, and gray? They are actually organizational tools to help you find your images. In my Macworld article, Mastering albums in iPhoto for iOS, I explain in detail how you can put these albums to use on your iPad.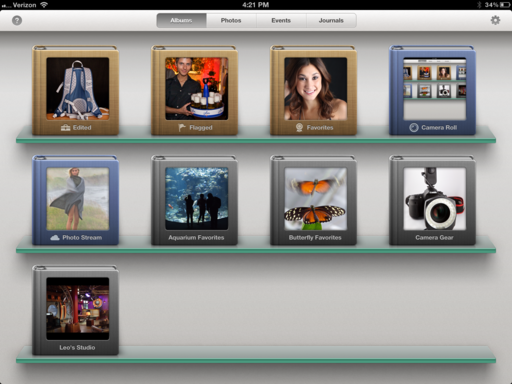 In the meantime, if you're curious as to what the colors actually mean, here you go:
Blue - Albums created by iPhoto for iOS that contain pictures from your Camera Roll for from Photo Stream.
Tan - Once you edit an image, or tagged it with a flag or as a favorite, iPhoto creates an Edited album and colors it tan.
Gray - If you create an album in the Photos app on the iPad, or sync an album via Aperture or iPhoto on Mac OS X, those images will appear in a gray album in your library.
So yes, you can organize your pictures on an iPad.
---
You can find more photo tips and "photography how tos" on my Pinterest page.
---