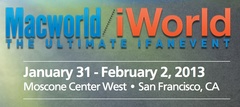 I'm be hanging out at the Macworld/iWorld event in San Francisco on the afternoon of Thursday, Jan 31, 2013. If you're in town and attending the show at Moscone West, be sure to look me up and say hi.
Best way to connect will be at the Digital Photography Panel Discussion (on main stage, I believe) led by Macworld Editor Jackie Dove at 2pm on Thursday. I'm on the panel with other Macworld writers including Mark Spencer, Gary Adcock, and Jeff Carlson. After the 45-minute panel, I'll explore the exhibit hall.
The Macworld event itself looks terrific. Lots of interesting talks and exhibitors. Hope to see you there.
Aperture Tips and Techniques
To learn about Aperture, check out my Aperture 3.3 Essential Training (2012) on lynda.com. Also, take a look at our Aperture 3 Learning Center. Tons of free content about how to get the most out of Aperture.
---
The Digital Story on Facebook -- discussion, outstanding images from the TDS community, and inside information. Join our celebration of great photography!
---