Remarkably smooth. That's my first impression of Flickr's Photo Session. It's a new feature that allows you to share a set of images in real time with up to 10 guests located... well, just about anywhere.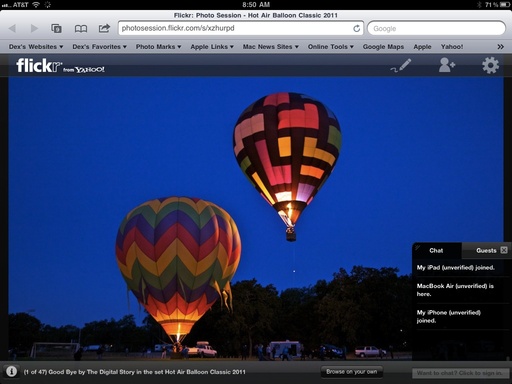 Photo Session being viewed on an iPad.
I fired up a Photo Session on my MacBook Air, then joined from an iPad and an iPhone 3GS. As I navigated from image to image on the MB Air, the photos moved in perfect sync on both mobile devices. In just minutes, you could lead a presentation to a small audience with no hassle.
If the guests sign in with a Yahoo ID, they can chat with you or among themselves via the pop-up window in the lower right corner. It's like having your own mini webinar. You can navigate the images, or allow others to drive. On the iOS devices, all you have to do is swipe the screen.
During my session, I was interrupted with a text message. I jumped out of Safari on the iPhone and took care of business via text. When I returned to Safari, Photo Session needed about 5 seconds to reconnect, then I was back in business. Very nice.
I know some photographers have been wondering how Flickr would respond to Google+. Well, this answer is sweet. Try it.
For more information about Photo Session, take a look at this FAQ.
Flickr Training
I have a lynda.com title, Flickr Essential Training that provides all the ins and outs you need to master Flickr. Stop by and learn how to get the most from this terrific photo sharing environment.
Previously on The Digital Story
Exploring Interesting Places Via Flickr
Become Your Own Museum Curator with "Galleries" on Flickr
Using Google to Search Within Flickr
Flickr Updates Share Tools for Facebook, Twitter
Introduction to Flickr Essential Training
---
The Digital Story on Facebook -- discussion, outstanding images from the TDS community, and inside information. Join our celebration of great photography!
---