What do you do when your referenced masters need to be moved to a different hard drive to maintain the functionality of your Aperture 3 library? At first this may seem like a daunting task, but with a little luck, the process will be easy and painless. I'll explain in this article.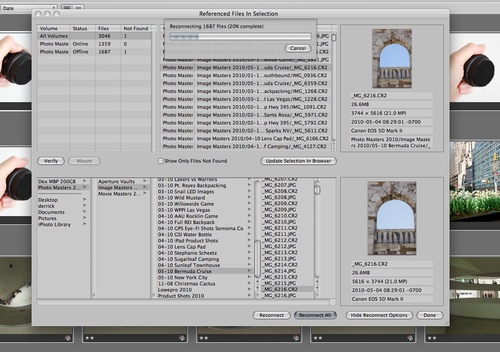 Click on image for enlarged view.
I could tell something was amiss with my LaCie Rugged hard drive that contained the master Raw files for my Aperture library. Suddenly it started auto-disconnecting from the computer, even though the cable was intact. I switch from FireWire to USB (Ruggeds have triple interfaces), and at first that seemed to make it happy. But soon the odd behavior resumed. As I've learned in the past, when a hard drive begins to act up, you must move quickly.
I began the process of moving my nicely organized master files for my Aperture 3 library to a fresh drive. This took a few days to accomplish because the beleaguered drive keep conking out before I could finish the transition. But finally they were all there. Even though the file structure on the new drive, including the name for the drive itself, was identical to the ailing hard drive it was replacing, Aperture showed "missing masters" for all of my referenced files.
Fortunately, I could use the "Locate Referenced Files" command (under the File menu) to reestablish those connections. The process is simple:
Steps to Reconnect Master Files
Click on the Photos icon in the Library tab of the Aperture Inspector.
Click on one thumbnail, then choose Select All from the Edit menu.
Go to Locate Referenced Files under the File menu.
Establish one photo match between the top and bottom pane of the interface (as shown in the illustration). The top pane is your Aperture library. The bottom pane is the new hard drive with the master files.
Click on the Reconnect All button.
Take a short coffee break
When you return, all of your referenced master files will have been reunited with their counterparts in the Aperture library. At this point, I would also create a new Vault and back up your work.
More Aperture Tips and Techniques
To learn more about Aperture 3, check out my Aperture 3 Essential Training on Lynda.com. Also, take a look at our Aperture 3 Focus Section. Tons of free content about how to get the most out of Aperture.
---
-
---