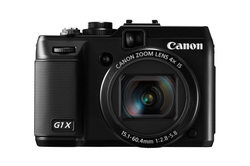 If I had the disposable income for it, I'd love to try the $799 Canon G1 X
large sensor compact. It's handsome on the outside and packs a 14MP 1.5" CMOS sensor on the inside. According to a current review in DP Review, "At high sensitivities the G1 X sets a new benchmark for compact cameras."
But they also caution that this isn't a camera for everyone. The AF is slow, burst rate is 1.9 fps, and the maximum aperture at the telephoto end of the zoom is a sluggish f/5.8. It's not designed to push the photographic envelope, but would be a great camera for the traveler who wants excellent image quality in a relatively compact package.
If you're interested in this camera and want a closer look, read the what DP Review has to say. I think they have a good handle on its pros and cons.
As for me personally, I'm going to wait for the Olympus OM-D release next month. More on that when it's available.
---
The Digital Story on Facebook -- discussion, outstanding images from the TDS community, and inside information. Join our celebration of great photography!
---