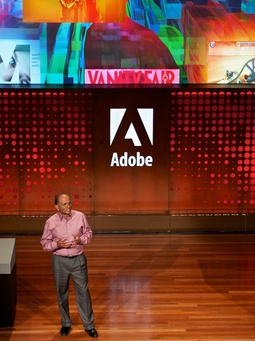 Adobe CEO Shantanu Narayen stepped on stage at the de Young Museum in San Francisco to reveal the path to Adobe's future. Adobe is hoping that it's a path upward to the Creative Cloud.
Adobe's vision of cloud computing goes beyond hosting software and sharing pictures. They see a complete creative environment, a virtual studio that integrates tools, assets, published work, and ideas. On a basic level, V1 looks like this.
Creative Cloud membership provides users with access to download and install every new Adobe CS6 application announced at the event and two new HTML5 products, Adobe Muse and Adobe Edge preview.
Creative Cloud integrates Adobe's creative tablet applications, such as Photoshop Touch, into everyday work -- seamlessly synchronizing and storing files in the cloud for sharing and access on any device.
Creative Cloud members will be able to easily deliver mobile apps to iOS and Android marketplaces and publish, manage and host websites.
Adobe Creative Cloud members will have access to application upgrades, including new CS point-product features, before they are launched as part of major CS updates, as well as inventive new products and services as they emerge.
Adobe Creative Cloud membership is US$49.99 per month, with an annual contract. A special introductory offer of US$29.99 per month for CS3, CS4, CS5 and CS5.5 individual customers is also available.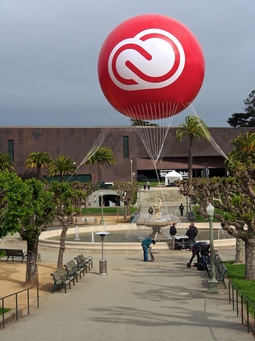 But on an idealistic level, Adobe wants to build a virtual studio where participants have all the tools they need in an inspirational environment -- not only to create their work, but to easily publish it also. Unlike box software, where the manufacturer builds it then ships, the Creative Cloud will represent ongoing work by Adobe personal as well as its customers. New ideas inspire updates not tied to release schedules.
---
Setting up for the Creative Cloud event at the de Young Museum in San Francisco.
---
Artistic inspiration was the theme of the day. The event was held at one of San Francisco's best museums. The independent artists who created the imagery for Creative Suite 6 were present for the event. And Adobe showed off its in-house talent via demos by respected artists such as Jeff Veen.
Will it work? The keys to success will be in the many details that will be grappled with over the coming months. But the concept is solid. My recommendation is, for those of us who are Adobe customers, is to keep an open mind and take a close look at how you could make it work for you. Like any community, the more of us who participate, the better the odds of success.
---
The Digital Story on Facebook -- discussion, outstanding images from the TDS community, and inside information. Join our celebration of great photography!
---