I've experimented with many apps to display pictures on the iPad. It's a perfect device for showing off your work. But finding the right software can be a challenge. Portfolio Pro for iPad builds a strong case to be that app.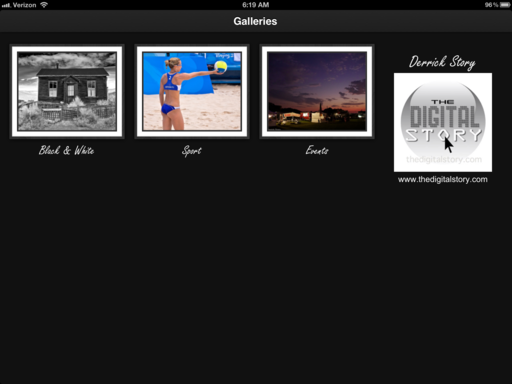 Branded overview page on Portfolio Pro displaying my logo and available galleries.
One of its best features is the ability to create different galleries of my images. I've found this helpful because different clients are interested in different subjects. I've always had a hard time creating just one portfolio for everyone.
You can control which galleries are visible, and for that fact, which images in those galleries can be viewed, by going into edit mode (triple tap) and clicking on the "eye" icon. This allows you to quickly customize the experience for the viewer without having to delete and add photographs.
As you'd expect, you can move pictures around to display in the order you want. The viewer can swipe to go from image to image, or play a slideshow. Portfolio Pro also accommodates video allowing you to stay in the same app for both stills and movies.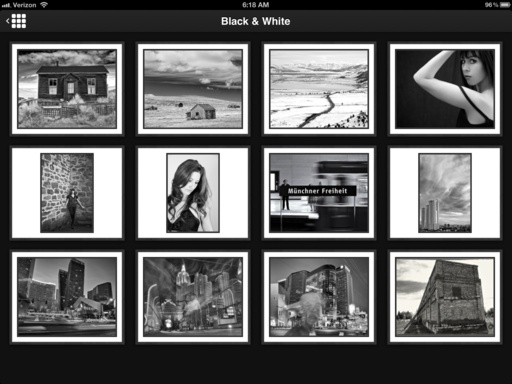 Thumbnail view inside a gallery.
You can populate your portfolio from the iPad's camera roll, Flickr, or Dropbox. If you have a lot of images on Flickr, you'll be able to build a variety of galleries quickly. The Dropbox connectivity is good too.
Despite claims for "ease of use," on the site, give yourself some time to learn how to work the application. The creators provide some helpful movies to get you started. I recommend watching them.
The current price for Portfolio for iPad is $9.99, expensive by iOS standards. But you'd pay more for a binder to house your prints, and this app is far more flexible. If you want to get serious about a digital portfolio, then I would consider this software.
---
The Digital Story on Facebook -- discussion, outstanding images from the TDS community, and inside information. Join our celebration of great photography!
---