When I saw Venus setting in the west on Fourth of July evening, I knew I wanted to create a different kind of shot for the holiday. The hardest part was finding a good location. After that, I had to set up quickly before the light left the sky.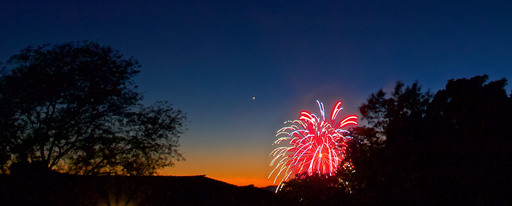 "Venus Setting in the West at Twilight with Fireworks" by Derrick Story
I mounted the Olympus OM-D E-M5 with the Panasonic VARIO 12-35mm/F2.8 zoom on a Joby GorillaPod Focus with Ballhead X and controlled the camera with a Triggertrap mobile connected to my iPhone.
With the ISO set to 200, I exposed the scene for 2 seconds at f/8. The zoom was set to 15mm. Fortunately, the fireworks show in the distance began at 9:35 pm, while there was still color in the sky. I captured about 6 frames, this one being my favorite, before I switched lenses and focused on the fireworks themselves.
I like the grand finale fireworks shots captured about 20 minutes later. But this shot for me, is something a little different than I normally photograph on Independence Day.
Want to Comment on this Post?
You can share your thoughts at the TDS Facebook page, where I'll post this story for discussion.
---