This is The Digital Story Podcast #728, March 3, 2020. Today's theme is "The Fujifilm X100V Hands On." I'm Derrick Story.
Opening Monologue
The Fujifilm X100V APS-C compact camera has been steadily evolving since I first saw it at Photokina 2010. Immediately after release, it developed a dedicated following. But there were many, including myself, who remained on the sidelines monitoring its evolution through 5 generations. Today's camera, the 100V, is the result of 10 years of development. And it's the lead topic in today's TDS Photography Podcast.
The Fujifilm X100V Hands On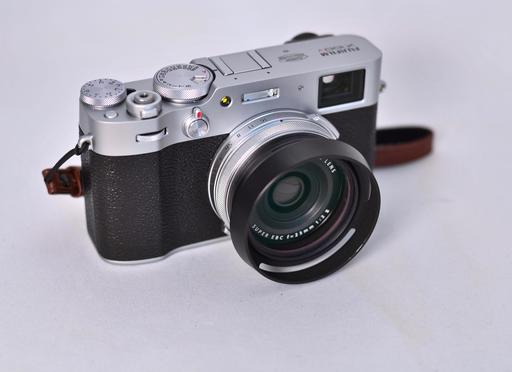 There are so many ways to walkabout the Fujifilm X100V. I've decided to highlight the features that finally won me over, while still noting the couple items that are on my wishlist for the future.
A few of the items that I'll cover have been part of the camera previous to the latest release. But they have been improved, bringing the overall functionality to a new level.And combined with the new introductions, they created the tipping point for me to carry it in my backpack.
So without any further delay, let's get to it.
The Features that Won Me Over for the X100V
Hybrid Viewfinder - "The popular Advanced Hybrid Viewfinder has been updated with a higher resolution 3.69m-dot OLED EVF (vs 2.36m-dot) for clearer viewing and a faster refresh rate of 100 fps. This can still be flicked away to reveal a clear 0.52x-magnification optical finder to suit the purists' way of photographing." And that's the deal, I get to have a very cool optical viewfinder with overlay information and an EVF in the same camera. And I use both.

3.0" 1.62m-dot LCD Touchscreen, - This just had to happen for me. So much of my work depends on me using low angles and perspectives from over my head. And without a tilting LCD, I just can't justify the camera. The LCD for the X100V is beautiful. And the tilting functionality elevates the camera to a new level, literally.

The Redesigned Fujinon 23mm f/2 Lens - The optic (8 elements in 6 groups) features a revised design that now includes two aspherical elements for improved sharpness and clarity. Improved performance at f/2, especially on the corners. Additionally, a Super EBC coating has been applied to suppress lens flare and ghosting for greater contrast and color fidelity when working in strong lighting conditions. It is wonderfully sharp, and it's close range performance has improved as well. All current accessories from previous models work on the 100V as well.

Updated Bluetooth with Realtime GPS Tagging that Actually Works - This is another big deal for me for a camera that I'm going to depend on while traveling. I want to be able to use more than my iPhone for geotagging images. With the updated Bluetooth (v 4.2), the X100V does a great job of staying in contact with my iPhone (via a setting that can be turned on or off) and adding geotags to my images. And it worked perfectly.

Weather Resistant Body - Again, a travel camera needs to be able to withstand, well, travel. I added the Vello LHF-X100B adapter and lenshood with a Hoya MNC filter to complete the weather sealing for this camera.

Built-In Selectable HDR and Panorama Modes - This is the first built-in camera HDR with 5 settings and 4 strengths that I can actually use without reservation. I'm particularly fond of the HDR 200 and HDR 400 settings that produce very natural results. And the Panorama mode is wonderful.

High Speed Movie Mode - I can now record at 120P in full HD and have it playback at 29.97P. And there are many other high speed options as well.
On my wish list, I'm hoping that Fujifilm can find a way to build image stabilization into this same sized body. It's great having 4K and high speed video, but IS makes it so much more usable. A standard headphone jack would be very nice indeed instead the current approach where we have to use an adapter.
I would also like 120fps refresh rate for the EVF vs the current 100 fps. And I don't mind the single SD card slot, but I would like it upgraded from the current UHS-I to UHS-2.
Just a Few More Things that I really Like
The programmable front command dial is wonderful. I set the Exposure Compensation dial to "C" and use the front dial for exposure comp. Very nice! The flash, just like the one on my XF10, is outstanding. Lots of settings and it really gets the job done. And if you need an external flash as well, the hotshoe or wireless capability will get the job done.
The front lever to switch from optical viewfinder to EVF is very convenient. And I use its function button to turn on and off face/eye detection focus, which is much improved. I also appreciate 1/3 clickstops on the aperture ring. I don't recall ever having that luxury. And finally, the film simulations are really enjoyable. And I'm so happy that I finally have Acros and the new Eterna Cinema options. Both are just great.
Bottom Line - The Fujifilm X100V has evolved into a camera that I want to have with me. It's outstanding image quality, unique viewfinder, and host of creative functions will keep me energized about my photography for years to come. It's earned a very high nimbleosity rating.
Do You Have a Film Camera that Needs a Good Home?
Over the last year, I've received donations from TDS members who have film cameras that need a good home. What I do is inspect the items, repair and clean as I can, then list them in TheFilmCameraShop where I can find a good home for them. If you're interested in donating, please use the Contact Form on TheNimblePhotographer site. And thanks for you consideration!
Why I Want Trade Shows to Survive
I tell the story of meeting the Fujifilm X100 at Photokina 2010, and that it's just one of dozens of interactions I've had over the years that couldn't happen any other way. Plus, I love watching how other people approach the booths, where the crowd gathers, and witness how photographers engage with new products. I find this invaluable and entertaining.
I know that photography trade shows are not the most practical expenditure of funds for visitors or exhibitors. But there's an element of magic to them. And I hope that together we can find a path forward for them in 2020 and beyond.
Update for the TDS 2020 Photography Workshop Season
Those of you on the registration list for the Humboldt Redwoods Workshop, keep an eye out for the registration packet that will go out later this week. We have a great event for you, and I'll be working with you to ensure that you are fully prepared to take advantage of this wonderful opportunity. Plus, we had one seat open up (moved to another workshop), so if you want to join us, hop over to the 2020 Workshops Signup Page and get on the Reserve List.
If you have questions about the other workshops, feel free to drop me a line using the Contact Form on www.thenimblephotographer.com.
When you decide which event is best for your, jump over to our 2020 Workshops Signup Page and place a $100 deposit to secure your place. Only participants on the Reserve List who have placed a deposit will be eligible to register for a workshop. If you have questions or need more information, fill out the "Send Me Info!" request form. I'll get back to you asap.
Updates and Such
Inner Circle Members: A big thanks to those who support our podcast and our efforts!
How to Watch Photos for macOS Catalina and iPadOS - Learn everything you need to know about Photos for the Mac and iPad by checking out my latest course on LinkedIn Learning and on lynda.com. This course is perfect for Mac and iPad based photographers who shoot with iPhone, Mirrorless, and DSLR cameras. It covers both photography and movies. And if I say so myself, it's a lot of fun.
B&H and Amazon tiles on www.thedigitalstory. If you click on them first, you're helping to support this podcast. (The Digital Story is supported by its audience. When you purchase through links on our site, we may earn an affiliate commission.) And speaking of supporting this show, and big thanks to our Patreon Inner Circle members:
Affiliate Links - The links to some products in this podcast contain an affiliate code that credits The Digital Story for any purchases made from B&H Photo and Amazon via that click-through. Depending on the purchase, we may receive some financial compensation.
And finally, be sure to visit our friends at Red River Paper for all of your inkjet supply needs.
See you next week!
More Ways to Participate
Want to share photos and talk with other members in our virtual camera club? Check out our Flickr Public Group. And from those images, I choose the TDS Member Photo of the Day.
Podcast Sponsors
Red River Paper - Keep up with the world of inkjet printing, and win free paper, by liking Red River Paper on Facebook.
The Nimbleosity Report
Do you want to keep up with the best content from The Digital Story and The Nimble Photographer? Sign up for The Nimbleosity Report, and receive highlights twice-a-month in a single page newsletter. Be a part of our community!
Want to Comment on this Post?
You can share your thoughts at the TDS Facebook page, where I'll post this story for discussion.