This is The Digital Story Podcast #721, Jan. 14, 2020. Today's theme is "Inkjet Printing in 5 Easy Steps." I'm Derrick Story.
Opening Monologue
I've had a number of listeners comment to me that they really would love to try their hand and inkjet printing, but don't know where to start. I totally get that. So I thought I would dedicate the first segment of today's show to the easiest of ways to enjoy success. Just five easy steps! I hope you enjoy the show.
Inkjet Printing in 5 Easy Steps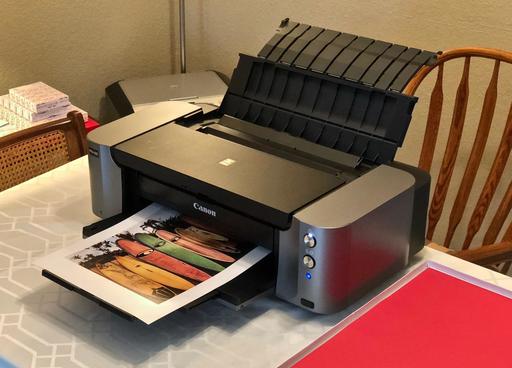 In all honesty, printing at home used to be more difficult than it is today. Much in the same way that technology has made picture taking more reliable, image output has become easier as well.
Once you have your feet wet and have experienced success, then you can fine tune this process. Or not! Because even at the beginning stages, I think you'll be thrilled with what you see emerging from your printer.
Here are my 5 steps to injet printing success.
Work from a photo management app - Programs such as Lightroom and Photos for macOS have tried to streamline the printing interface presenting you with logical choices. Plus, all of your images are housed there, making access very easy.

Get your hands on a printer that promotes itself outputting photo quality prints - If you don't want to invest in a dedicated 13" printer, then buy an all-in-one model that brags about its photo output. If it has 3 or more ink cartridges, then you're in business. Make sure you computer can see it, either via cable or WiFi.

Set up your first test print - Most likely you will see two dialog boxes during this process. The first is from the photo management app, and the second is via the print driver. The first dialog is important for choosing the printer, paper size, surface, and possibly a few other parameters. The second will probably have some duplicate fields. The the think that you want to look for is "Printer Managed." Choose that, and everything will be much easier. If you don't see that, look for color matching. The key here is to have the printer in charge of the handoff.

Examine your test print and make adjustments - If you need to brighten your output, which is the most common adjustment, then do so with the printing software, not with your image editing tools. Make a note on the back of your test print the adjustments you made.

Output your second print - This version should be pretty darn good. Unlike digital images on a screen, prints are affected by the paper used in the process. Gloss stocks have more punch and contrast. Matte surface have more muted colors and softer lines. Warm-toned papers affect the color rendering, as well as cool white surfaces. If you're not satisfied with the final look of the print, try a paper stock that solves the problem.
A few bonus tips. For a better fit on the paper, duplicate your image and crop it to the dimensions of your printing paper.
Review the Printer Features area in the printer dialog box. It's usually available via a popup menu. Here you can change dpi (I like 600x600), quality setting (fine is usually good, best isn't typically required), and tweak the brightness.
If you have a choice anywhere between Adobe RGB and sRGB, choose Adobe RGB for printing.
Once you get a print to your liking, make another and stash it away. These make great archives of your images. Be sure to let it air dry completely before storage.
Inner Circle Reviews
We have a new feature for our Patreon members, and there's benefit for non-members as well. Derrick describes in this second segment. Our first review will be of the Oben CT-3565 Carbon Fiber Tripod ($209).
The TDS 2020 Photography Workshop Season
What makes these events so special? It's the magic blend of fellowship, location, inspiration, and focus. You can actually be single-minded about your craft. I'll take care of everything else.
When I was discussing this on our Patreon site, one Inner Circle member raised a concern about the class presentation on the final day. I'm going to tell you what I say at every workshop. This is not a competition. It is the most supportive creative environment that you will ever share your work with. And no matter your skill level, the floor is yours to discuss your experience and share a few images. I promise you, you will love it.
When you decide which event is best for your, jump over to our 2020 Workshops Signup Page and place a $100 deposit to secure your place. Only participants on the Reserve List who have placed a deposit will be eligible to register for a workshop. If you have questions or need more information, fill out the "Send Me Info!" request form. I'll get back to you asap.
Updates and Such
Inner Circle Members: A big thanks to those who support our podcast and our efforts!
How to Watch Photos for macOS Catalina and iPadOS - Learn everything you need to know about Photos for the Mac and iPad by checking out my latest course on LinkedIn Learning and on lynda.com. This course is perfect for Mac and iPad based photographers who shoot with iPhone, Mirrorless, and DSLR cameras. It covers both photography and movies. And if I say so myself, it's a lot of fun.
B&H and Amazon tiles on www.thedigitalstory. If you click on them first, you're helping to support this podcast. (The Digital Story is supported by its audience. When you purchase through links on our site, we may earn an affiliate commission.) And speaking of supporting this show, and big thanks to our Patreon Inner Circle members:
Affiliate Links - The links to some products in this podcast contain an affiliate code that credits The Digital Story for any purchases made from B&H Photo and Amazon via that click-through. Depending on the purchase, we may receive some financial compensation.
And finally, be sure to visit our friends at Red River Paper for all of your inkjet supply needs.
See you next week!
More Ways to Participate
Want to share photos and talk with other members in our virtual camera club? Check out our Flickr Public Group. And from those images, I choose the TDS Member Photo of the Day.
Podcast Sponsors
Red River Paper - Keep up with the world of inkjet printing, and win free paper, by liking Red River Paper on Facebook.
Skillshare is an online learning community with thousands of classes for creators, entrepreneurs, and curious people everywhere. Get two months of learning for free by visiting www.skillshare.com/tds.
The Nimbleosity Report
Do you want to keep up with the best content from The Digital Story and The Nimble Photographer? Sign up for The Nimbleosity Report, and receive highlights twice-a-month in a single page newsletter. Be a part of our community!
Want to Comment on this Post?
You can share your thoughts at the TDS Facebook page, where I'll post this story for discussion.