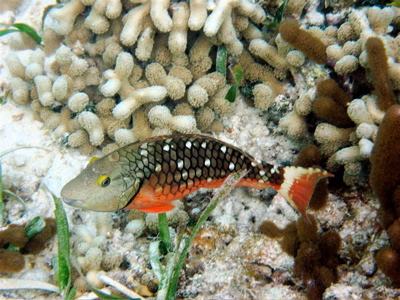 Diving off the impressive coral reef in Belize was the first time I considered shooting landscape underwater. Normally, as you can imagine, the focus is on fish, rays, eels, and turtles. I saw and photographed lots of beautiful fish. I also had a glimpse at a green Moray Eel and captured some very decent shots of a Stingray... until he turned in my direction that is -- which caused me to turn tail. (Yes, I read the news headlines too.) I couldn't find him again once the coast was clear.
Speaking of clear, the water was unbelievably transparent. I had long views of purple fan coral, giant brain coral, and a host of other thriving residents on the reef. I actually started shooting landscape shots, and on first review on my Mac, they look terrific.
But, I had to be very careful while working. This is a very fragile environment. Not so much in terms of nature, but very much so in terms of mankind. It's so easily to carelessly catch a piece of coral with a flipper while treading water or shooting pictures. If you're lucky enough to ever visit Belize, please spread the good word among your diving buddies: keep a healthy distance from the reef. Our cameras are good enough that we don't need to risk the environment to get a good shot.
I recorded today's photo with the Canon SD700 IS in a Canon underwater housing. If you know this fish, please post a comment. He's beautiful I think, and he well represents the community I was so lucky to visit.
Soon, I head out to the ruins in Guatemala. Stay tuned...
Technorati Tags: digital photography, The Digital Story