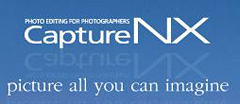 When Nikon made a big splash at PMA 2006 with its Capture NX software, I was throughly impressed. Unlike applications we typically see from camera manufacturers, Capture NX looks and behaves like finely-crafted software made by engineers who really know what they're doing. Actually, that's the case. Nik software has teamed up with Nikon to produce a real breakthrough for Nikon shooters.
Capture NX brings nondestructive image editing to the NEF format (Nikon's RAW). You can also edit JPEGs and TIFFs with Capture NX, although to avoid compromising the quality of those pictures, you'll need to save those images under a different file name, or simply covert the files into Nikon's NEF format.
One of Capture NX's real innovations is U Point technology. Quite simply, you point to an area of the image you want to edit, then adjust sliders right there on the screen until you're satisfied with the results. This approach is very intuitive and enables you to work quickly.
Windows users need to have XP or 2000 Professional to run Capture NX. Mac users need OS X 10.3.9 or later. Capture NX is not Universal Binary, so it will not run on a Mac/Intel processor. [Update, I should have said run "natively" on a Mac/Intel processor.] As you may have guessed, you can't edit other types of RAW files with this software, although any flavor of JPEG or TIFF is welcome.
For a limited time, you can download a 30-day free trial from Nikon's Software Download page. When released later in July, Capture NX will cost $149.95 for the full package or $89.95 as an upgrade.
Technorati Tags: digital photography, product review, software