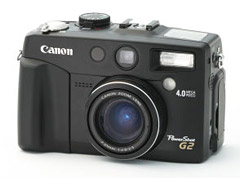 One of the things I like about my older Canon PowerShot G2 is that is supports Raw as well as Jpeg. This used to be common with advanced amateur models such as the G1 and G2, but these days you often have to buy a digital SLR to get Raw support.
Of course Raw photography isn't any fun unless you have a good application to interpret the files. I remember (way back when) struggling with Canon's software to process my Raw files... probably why I decided that Raw was only for special occasions. But now I can have my Raw and convenience too. Adobe's new photo workflow application, Lightroom, supports many of those older cameras that could capture Raw, including my black PowerShot G2. (You can see the entire list of supported models on the Adobe Labs site.)
I guess this is the modern version of nostalgia -- I really enjoy grabbing the G2 (it has a very smart custom leather case like cameras of yesteryear) on my way out the door, knowing that I have a fast f-2 lens, full manual controls, vari-angle LCD screen, hot shoe, and yes, Raw format. It even uses the same batteries as my state of the art Canon 5D DSLR.
When I return home, I can process my 4-megapixel Raw files with the beta 3 version of Lightroom. And they look great. It's old meets new. And it's a lot of fun.
Technorati Tags: equipment, digital photography