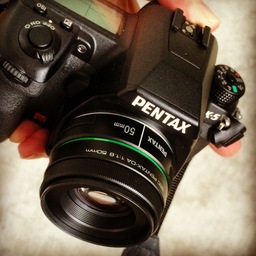 The Pentax SMC DA 50mm f/1.8 lens is a handsomely designed, moderately priced, fast prime.
I had read conflicting reports about its performance. Pop Photo gave it high marks, while the folks at SLRgear.com were lukewarm about the optic. I needed a fast, versatile lens for my Pentax K-5 that I use around the studio. So when the 50mm went on sale for $182, I jumped at the chance to buy it.
After a few days of shooting, I'm leaning more toward the Pop Photo results. So much so, that I'm wondering if SLRgear got a bad version of the optic for testing. I'm primarily shooting between f/1.8 and f/2.8 here at the studio.

Portrait at f/1.8 with Pentax 50mm. Photos by Derrick Story.
I do think the lens is a bit sharper at f/2.8 than wide open. But that doesn't mean that it isn't crisp at f/1.8, and the artistic effect of the focus falloff is wonderful.

Portrait at f/2.8 with Pentax 50mm.
If I were going to complain about anything with the Pentax 50mm, it wouldn't be image quality. It would be the grinding sound of the AF motor. It's not a problem here at the studio shooting product shots. But I wouldn't want it at an intimate marriage ceremony. In those situations, switch to manual focus, which is quite nice on this lens.
The Bottom Line
If you own a Pentax K-mount body, you probably will love adding the 50mm to your camera bag. It's light, good-looking, and provides excellent image quality. Just don't shoot in AF mode in quiet settings.
---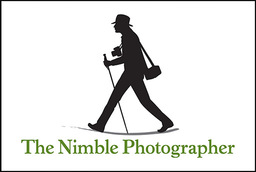 The Pentax 50mm f/1.8 lens has a high Nimbleosity Rating. What does that mean? You can learn about Nimbleosity and more by visiting TheNimblePhotographer.com.
Want to Comment on this Post?
You can share your thoughts at the TDS Facebook page, where I'll post this story for discussion.