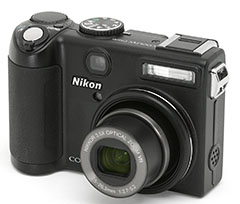 Nikon has released the Coolpix P5100 just six months after the P5000 received positive reviews. Essentially, this is Nikon's high-end compact for serious photographers who want a capable point and shoot to augment their DSLR.
Many of its specs will look familiar to those of you who have been eyeing Canon's PowerShot G9: 12 Megapixels on a 1/1.8 CCD, optical image stabilization, 3.5X zoom, SDHC card compatibility, face detection, 2.5" LCD monitor, and all the settings any serious photographer would want. I think the P5100 is a smarter looking camera than its predecessor, going more with the matt black look instead of the mix of chrome and black.
Invariably, though, we all want to see how it stacks up to the Canon PowerShot G9. I've just returned from two weeks in the Caribbean using the G9 as one of my cameras, and it performed admirably. But the things I liked about it are missing from Nikon's P5100--notably the longer 6X optical zoom lens and RAW mode. Plus with the Canon you get a 3" LCD vs. the P5100's 2.5 monitor.
So when DPReview published their review of the Nikon P5100, I was eager to see if their thoughts were similar to mine. In short, yes, they were.
One of Richard Butler and Simon Joinson's primary complaints with the P5100 is that Nikon didn't really improve its handling speed. This is something they noted about the G9 too, although I have been fairly happy with its start-up and shutter lag performance. What the G9 doesn't have, as well as the P5100, is any sort of useful burst mode compared to a DSLR.
But where things really get interesting is the comparison of images shot at the lowest ISOs and ISO 400. My eyes see a clear difference with the G9 images looking hands down better. The reviewers seem to soften their comments here, but the pictures really tell the story.
Overall, even if you're a Nikon shooter, I think you should consider the Canon G9 as your high end compact. The Canon does cost $100 more, but that's about the only mark against it for a "pro point and shoot." For me, this is one of those many instances where you have to ignore brand and go with the better camera.
Technorati Tags: review, The Digital Story, Nikon Coolpix P5100, Canon G9