This week on The Digital Story Photography Podcast: Silent Shutter, Huge Price Drop for the Panasonic GX7, Traveling with David Hobby, Luxurious Leica 42.5mm f/1.2 Lens for Micro Four Thirds - All of this and more on today's show with Derrick Story.
Story #1 - Cactus Releases the V6 - The Cactus Wireless WRLS Flash Transceiver V6 is the world's first non-TTL wireless trigger that can control power of cross-brand system flashes of Canon, Nikon and Pentax. You can adjust power levels in 0.1EV increments for perfect control of light output. And the best part, they sell for $59 each.
In other news, The Panasonic LUMIX DMC-GX7 Price Drop - The Micro Four Thirds GX7 is now available for $697 that's a huge price drop for its $999 list price. I'll be talking more about the GX7 for street shooting in the next story.
And finally, Rumor: Zeiss Will Soon Announce the "Loxia" Lens Line for Full-Frame Mirrorless Systems (Sony Alpha) - All are designed by ZEISS itself, unlike the 55mm f/1.8 FE, which is a Sony product with ZEISS branding. All are said to be manual focus prime lenses, will feature a physical aperture ring and be made of high-quality materials. (Source: PetaPixel).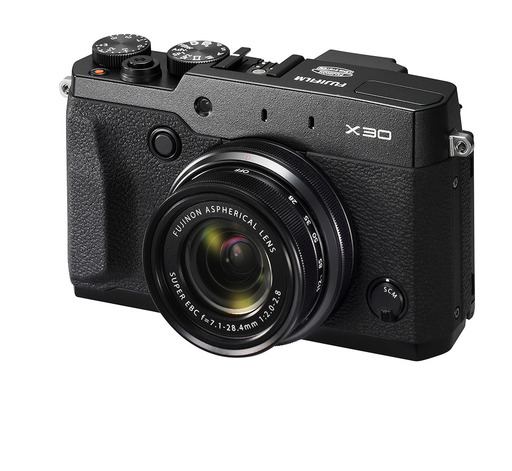 The new Fujifilm X30, along with its older siblings the X10, X20, X100 and X100S, feature a "silent shutter" option that's impressive.
Story #2 - Silent Shutter - We often don't realize just how noisy our cameras can be until we're in a quiet environment, such as a church. But there are a few stealthy capture devices out there, and I discuss their advantages for street shooting, weddings, and other situations where you don't want to draw attention to yourself. Four of the cameras I discuss are:
Story #3 - From the Screening Room - The Traveling Photographer: Fundamentals with David Hobby. David might surprise you with his approach to this title. It's not just about f/stops and lenses. He provides insights to traveling as a photographer while balancing the other aspects of your trip.
You can watch David in action by visiting the TDS Screening Room at lynda.com/thedigitalstory. While you're there, you can start your 7 day free trial to watch other design, photography, and computing titles, plus every other topic in the library.
Story #4 - I Got to Touch the Panasonic Lumix G Leica DG NOCTICRON 42.5mm/F1.2 lens for Micro Four Thirds. My friend and Lumix Luminary Joseph Linaschke stopped by the studio this morning with this optic in his bag of tricks. I immediately mounted it on my Olympus OM-D E-M10 to see how it would perform.
Story #5 - SizzlPix Winners! Here are the latest class of winning photographers for the SizzlPix Pick of the Month:
Michael Hoffman -"HDR" - March 2014 Photo Assignment
John Dillworth - "Flower Power" - April 2014 Photo Assignment
Victor Hermand - "Around the House" - May 2014 Photo Assignment
Richard Messenger - "Any Kind of Light but Natural" - June 2014 Photo Assignment
Congratulations on your excellent work!
Virtual Camera Club News
Red River Paper just released RRP Luster Card Duo again. It's a double-sided luster paper pre-scored for cards. It is related to Arctic Polar Luster, but the surface is more pearlescent. You can find it here.
The SizzlPix Challenge is Back! (for one month only). Each week the first 10 TheDigitalStory listeners/readers to order SizzlPix from their own favorite images will receive a mini-sample of each SizzlPix prior to production by return mail absolutely free! Just put the words "free sample first" and your mailing address in the comment space of SizzlPix's new simplified order form.
Photo Assignment for August 2014 is "My Favorite Close-up".
If you haven't done so already, please post a review for The Digital Story Podcast in iTunes.
BTW: If you're ordering through B&H or Amazon, please click on the respective ad tile under the Products header in the box half way down the 2nd column on thedigitalstory.com. That helps support the site.
Download the Show
In addition to subscribing in iTunes, you can also download the podcast file here (29 minutes). You can support this podcast by purchasing the TDS iPhone App for only $2.99 from the Apple App Store.
More Ways to Participate
Want to share photos and talk with other members in our virtual camera club? Check out our Flickr Public Group. And from those images, I choose the TDS Member Photo of the Day.
Podcast Sponsors
lynda.com - Learn lighting, portraiture, Photoshop skills, and more from expert-taught videos at lynda.com/thedigitalstory.
Red River Paper -- Keep up with the world of inkjet printing, and win free paper, by liking Red River Paper on Facebook.
SizzlPix! - High resolution output for your photography. You've never seen your imagery look so good. SizzlPix.com. SizzlPix! now is qualified for PayPal "Bill Me Later," No payments, No interest for up to 6 months, which means, have your SizzlPix! now, and pay nothing until January!
Want to Comment on this Post?
You can share your thoughts at the TDS Facebook page, where I'll post this story for discussion.