I just read an interesting article on Petapixel, DIY: A Cheap and Effective Rig for Digitizing Negatives Using a Smartphone that shows you how to make an easy rig to use with your smartphone to copy slides.
The article reminded me of how many times, and different ways I've address this type of project. So I thought I'd list them all here for your entertainment and reference.
---
Review of the Lomography Smartphone Film Scanner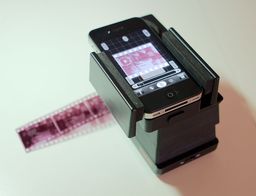 The Lomo enables you to connect a smartphone, in my case an iPhone 4S, and scan 35mm film strips. The internal light is powered by 2 AA batteries. Operation is simple. Feed the film into the unit using a knurled knob, turn on the light, mount your phone, and take a picture of the illuminated image. Read about the Lomo film scanner here.
Bottom Line: The Lomo is fun to use and convenient, but the results are so-so at best.
---
DIY Copy Stand for iPhone 3GS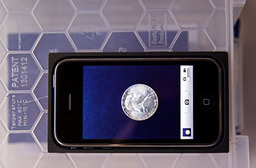 If you've ever tried close-up work with the iPhone, you know you have two challenges. The first is holding the camera steady enough to avoid camera shake. The second is getting the plane of the camera parallel to the plane of the subject to avoid distortion. This little device helps with both, plus diffuses the light for a more flattering rendering. Read about the DIY Copy Stand here.
Bottom Line: It might not be pretty, but this rig produces great results.
---
DIY Slide Digitizer with Olympus OM-D and Leica Projector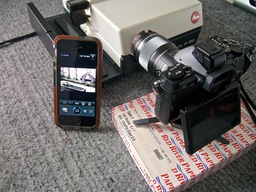 This set-up solves the quality problem by using an Olympus 60mm f/2.8 macro lens with an Olympus OM-D E-M1. The Olympus 60mm has excellent edge-to-edge sharpness, plus a small barrel diameter to correctly couple with the slide projector. I simply remove the lens that came with the projector, then point the 60mm optic toward the illuminated slide. Read about the DIY Slide Digitizer here.
Bottom Line: It's a bit of a hassle to set up, but the digitized slides look great and can be used for a variety of purposes.
---
Canon 5D 35mm Slide Digitizer - DIY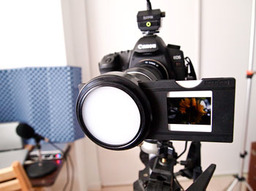 If you have a full frame DSLR, you can easily digitize your favorite 35mm slides at home. I'm using a Canon 5D, Sunpak 444D flash, and a 1980s slide copier. That's all you really need. Read about the Canon 5D Slide Digitizer here.
Bottom Line: If you find the parts, you'll like the results.
So there you have it. A roundup of whacky, but often effective devices for digitizing content. What can you come up with?
Want to Comment on this Post?
You can share your thoughts at the TDS Facebook page, where I'll post this story for discussion.