Gentlemen Coders has released RAW Power 3.0 for macOS and iOS. It's a comprehensive update with much to unpack over the coming weeks, but the focus today is how it brings Star Ratings to Photos for both the Mac and iOS versions of the app.
Photos displaying the rating albums created by RAW Power.
The rating system is easy to use, and is ingenious in its design. If you're running macOS Catalina, the RAW Power app allows you to use your Photos library in real time. This even works if you have the Photos app open. Within RAW Power you can tap all the powerful tools to enhance your images and have those improvements saved directly to your iCloud Photos library. But now, you can also rate and tag those pictures, and they too will be saved to iCloud and acknowledged in the Photos apps.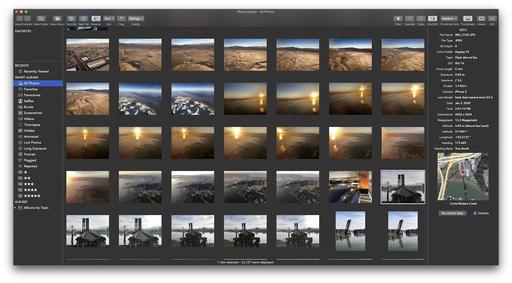 RAW Power 3 tapping my Photos library.
RAW Power creates Star Rating Albums that are displayed both in RAW Power, and in the Photos app. RAW Power uses Aperture style keyboard shortcuts for the ratings allowing you to move quickly through the images. What's really cool, even if you're running Photos on macOS Mojave, which doesn't allow the library sharing as in Catalina, the Star Rating Albums still appear in the app if they were added in RAW Power running on a Catalina machine using the same Photos library. The overall approach is both clever and works great.
This update, over a year in the making, includes tons of other stuff as well. Here's a brief overview.
RAW Power 3.0 for Mac and iOS creates the first real option for serious photographers in the Apple ecosystem. RAW Power 3.0 is now the first and only third-party app to include full support for Apple Photos libraries on Mac and iOS, allowing photographers to rate and edit their images anywhere and any time. New features introduced today include flexible storage options, synchronized ratings and flagging for Photo libraries, support for Files.app on iOS, advanced auto enhance, LUT support and one-tap integration with the popular Halide camera app on iOS. RAW Power 3.0, developed by Nik Bhatt, a former Apple engineer who led the iPhoto and Aperture teams, is available for download today on the Mac and iOS App Stores.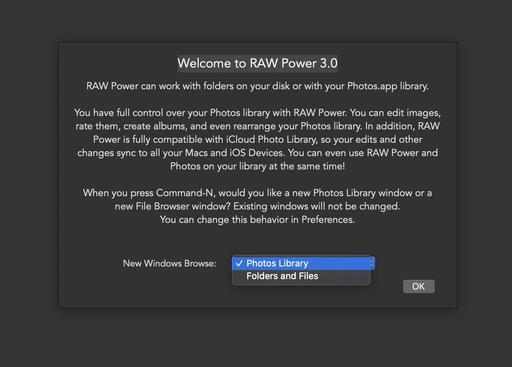 macOS Catalina photographers can choose the Photos Library from within RAW Power 3. Or they can use the file browser.
The new RAW Power app for iOS introduces the much-requested ability to manage photos either in Photos or in Files.app. Now, photographers can easily work on their collections of images in either or both environments and switch seamlessly between them. Users can import images from an SD card into RAW Power using the Files app. Additionally, the new Copy to RAW Power Share Extension makes it easy to import images from other apps into the Files storage for RAW Power.
I'll be covering more of the features in upcoming posts. But after my initial testing on both macOS and iOS, I can comfortably say that this elevates the Photos/iCloud environment to a high level for serious photographers.
RAW Power 3.0 runs on macOS Catalina and Mojave and is available for $39.99 or as a free upgrade for existing users of RAW Power for Mac 2.0. (It does not support the iCloud Library sharing on Mojave, however.) RAW Power for iOS 3.0 is available for $9.99 or as a free upgrade for current RAW Power for iOS customers. RAW Power for iOS 3.0 runs on iOS 12 and 13, but does not support iPhone 5s, 6 or 6 Plus, or iPad mini 3 or earlier.
You can share your thoughts at the TDS Facebook page, where I'll post this story for discussion.