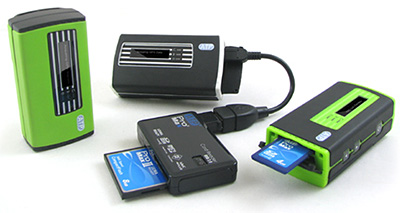 Since we don't have Geotagging in most of our cameras yet, here's a slick device for SD Card shooters that enables us to add GPS position data directly to JPEGs. ATP's Photo Finder is a pocketable GPS tracking device that lets you insert the SD memory card from your time-synced camera, then it writes the positions directly to the file header of each shot. You can then plot the data with Google Earth to see the location of each photo.
The $100 device seems easy enough to use. Just make sure that your camera's internal clock is in sync with the Photo Finder, and that the device is on while you're out taking pictures. When you take a break, just remove the SD card from your camera, insert it in Photo Finder, and the data is added to each shot. Later, when you upload the images to your computer, you'll see the GPD info in the EXIF data.
If you shoot RAW, my guess is that you'll have to shoot RAW+JPEG and use Photo Finder for the companion files. Also, it doesn't accommodate CF Cards directly, but as shown in the illustration, can tag them via a USB memory card reader. This is an interesting device that I want to explore more.
If you have any experience with it, please post a comment.
Technorati Tags: digital photography, gadgets, Technology, The Digital Story, GPS, Geotagging