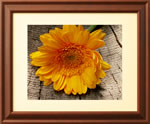 If you're a Mac shooter and have been curious about incorporating digital picture frames into your display options, PhotoVu has now built-in compatibility for the Mac.
"We have garnered a very loyal following from the Apple and Mac user community," said Robert Jordan, Partner, PhotoVu. "Our PhotoVu customers who use the Mac OS X Leopard operating system and iLife '08 recognize PhotoVu as 'the' premium digital picture frame to accurately and seamlessly display their life's photos directly from a iPhoto® '08 digital picture library or from their .Mac Web Gallery using RSS."
PhotoVu frames come in a variety of sizes (10" - 22") and have beautiful screens that show your work in the best light possible. One might make a nice holiday gift for the Mac photographer in your family.
Technorati Tags: digital photography, gadgets, Technology, The Digital Story, Wi-Fi