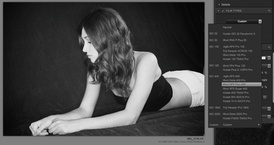 Even in the digital age, you can create B&W portraiture with a classic film grain and tonality. Thanks to inspiration by photographer Gary Tyson, I've added a new workflow for these types of images using Aperture 3 and Silver Efex Pro 2.
In the article, One Way to Convert Color Images to Black & White in Lightroom and Silver Efex Pro 2, Gary shows how to use Lightroom and Silver Efex to produce gritty B&W photos. The big take-away was flattening the contrast of the color photo in Lightroom before sending it to Silver Efex for processing.
To my thinking, this would be easy enough for Aperture users too. So I created this workflow.
"Renee Reclining" originally captured in color and converted to B&W. All photos by Derrick Story.
To flatten the photo in Aperture, I moved the Contrast and Mid Contrast sliders to the left. (How far is a matter of personal taste. Take a look at the photo below for an example.) I then sent the image to Sliver Efex Pro 2 and applied the 011 Push Process (+1.5) or the 012 Push Process (+3) to the photo, depending on which one looked best. I then used the Film Simulation mode Ilford HP5 Plus 400. At this point I could return the picture to Aperture for finishing touches.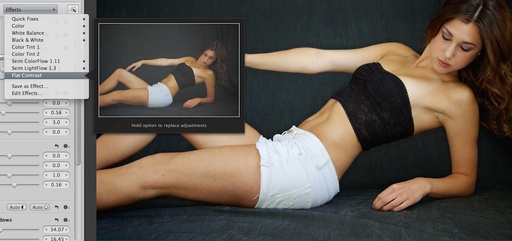 I created an Effect Preset for the flat contrast so it would be easy to apply in the future.
To close the loop, I output the image on fiber stock, such as Polar Matte 60lb.. Having the print for framing or just enjoying on the coffee table has certainly caught the eye of fellow photographers.
More Aperture Tips and Techniques
To learn more about portrait retouching in Aperture, take a look at Portrait Retouching with Aperture. You may want to check out my other Aperture titles, including Aperture 3.3 Essential Training (2012), Using iPhoto and Aperture Together, and the latest, Enhancing Product Photography with Aperture. Also, take a look at our Aperture 3 Learning Center. Tons of free content about how to get the most out of Aperture.
Want to Comment on this Post?
You can share your thoughts at the TDS Facebook page, where I'll post this story for discussion.