This is The Digital Story Podcast #772, Jan. 5, 2021. Today's theme is "5 Ways to Create Beautiful B&W Photos." I'm Derrick Story.
Opening Monologue
Black and white photography is not merely the absence of color. In the right hands, monochrome pictures artistically blend shapes and tones to help us see life more clearly. We believe black and white photos are truthful even though the world is in color. The feeling is that we've stripped away all the distractions and are left with the essence of a subject. And on today's show I'm going to discuss 5 ways you can create beautiful B&W images.
5 Ways to Create Beautiful B&W Photos
When you really begin to explore B&W photography, you will probably notice that it reveals many aspects of the world clearer than color images. To help you with this exploration, here are five of my favorite methods for moving from color to monochrome.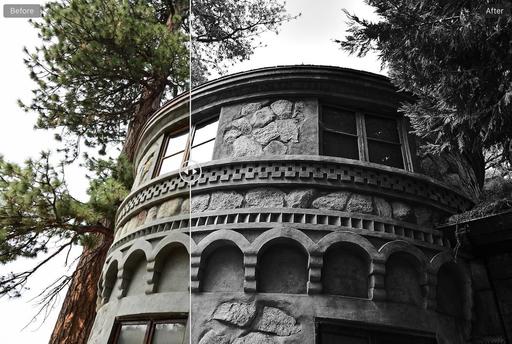 The Desaturation Method - You can do this in practically any image editing app. Move the Saturation slider all the way to the left. Then fine tune the B&W with the Temperature and Tint sliders in White Balance. Finally, use your Exposure adjustments for the finishing touches.

Set Your Camera to Monochrome Mode - This has the added advantage of letting you compose in B&W, which is a whole different ballgame. Shoot in RAW+Jpeg. The Jpeg will be monochrome, and the RAW will be your color safety net.

Use Your Application's Built-In B&W Converter - Lightroom, Photos, Capture One Pro, Luminar, ACR, and Photoshop all have B&W conversion tools. Some are more sophisticated than others, but all work well.

Dedicated B&W App Such as Silver Efex Pro 2 - I find this approach the most creative because of the variety of presets combined with the power of the tools.

Shoot B&W Film - This approach can be a real eye-opener if you've never dabbled in analog photography before. Black and white films such as Kodak Tribute-X, Ilford HP5 400 Plus, and Fujifilm's Neopan 100 Acros II are amazing emulsions that provide rich tonality.
Regardless of the method you use, working in Black and White will likely invigorate your photography and help you see the world in a new way.
Waiting List for a Second Session of Integrating iPhone into a Pro Photography Workflow Online Workshop
The first session of "Integrating iPhone into a Pro Photography Workflow" Online Workshop has sold out. But I've created a wait list for a second session that would begin in mid-February. If we get enough interest for a second session, I will open registration for it.
If you're interested in attending, just go to The Nimble Photographer and click on Workshops. There's no charge to get on the wait list.
In this workshop you will explore:
Working with just one digital camera and an iPhone.
Taking advantage of a versatile fast prime lens on your digital camera and using iPhone for additional focal lengths.
Perfecting a RAW workflow with the iPhone.
Leveraging Apple ProRAW for those who have iPhone 12 Pro.
Building a kit that allows you to travel lighter without compromising capability.
Post processing tips and techniques using Photos on Mac, iPad, and iPhone.
Investigating other software and workflows to augment your imaging prowess.
Gone but not forgotten: Adobe Flash is no more
You can read the article here on DP Review.
Adobe Flash, a staple of the internet for much of its nearly 25-year life, is officially dead. Adobe promised that its support for Flash Player would end on December 31, 2020. True to its word, Flash has ridden off into the proverbial sunset.
Beginning January 12, 2021, Adobe will block Flash content from running Flash Player. Furthermore, Adobe 'strongly recommends' all users immediately uninstall Flash Player 'to help protect their systems.' Adobe will no longer be issuing security updates for Flash Player, making it important to remove from your system. For information on how to uninstall Flash Player, refer to this Adobe support page.
The move has to sunset Adobe Flash has been a long time coming, as Adobe first announced its intention to discontinue Flash back in 2017 after asking developers to move on to HTML5 in 2015. By 2018, a very small proportion of websites still used Flash, with many opting instead to use Javascript, WebGL or HTML5.
Updates and Such
Inner Circle Members: A big thanks to those who support our podcast and our efforts!
Affiliate Links - The links to some products in this podcast contain an affiliate code that credits The Digital Story for any purchases made from B&H Photo and Amazon via that click-through. Depending on the purchase, we may receive some financial compensation.
And finally, be sure to visit our friends at Red River Paper for all of your inkjet supply needs.
See you next week!
Product Links and Comments
There are product links in this article that contain affiliate tags. In some cases, depending on the product, The Digital Story may receive compensation if you purchase a product via one of those links. There is no additional cost to you.
You can share your thoughts at the TDS Facebook page, where I'll post this story for discussion.