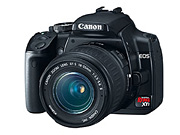 Canon "played it safe" with the latest version of the Canon Digital Rebel 400D (XTi), according to a recent review in Digital Photography Review. But playing it safe isn't always a bad thing, because the latest Rebel earned a Highly Recommended rating.
So what do you get for your hard earned money? The new Rebel features a 10.1 megapixel CMOS sensor with improved microlens array, excellent dynamic range, nine point auto focus sensor, large, bright, 2.5" LCD monitor with 160° viewing angles, three settings for long exposure noise reduction, and a new dust reduction system.
Pretty good stuff for a camera that is $100 less than its predesessor -- $849 on Amazon with 18-55mm lens. If you want to shoot RAW, this is a camera to consider.
Technorati Tags: digital photography, The Digital Story