The new Think Tank Photo Vision 13 Shoulder Bag ($129) builds upon some of the best features from previous Think Tank models and even makes some improvements.
The basic features for this mid-sized shoulder bag include:
Accommodates DSLR or mirrorless kit
Holds 13" Laptop and 10" Tablet
Zippered Lid for Main Compartment
Organizer Pockets, Large Phone Pocket
Top Carry Handle, Padded Shoulder Strap
Bottle Pocket, Tuck-Away Tripod Straps
Pass-Through for Luggage Trolley Handle
Weather-Resistant Exterior, Rain Cover
If you've used previous Think Tank bags, you'll recognize the basic design. Where the bag makes improvements, however, are in overall stability, side water bottle pocket, and conservative use of velcro.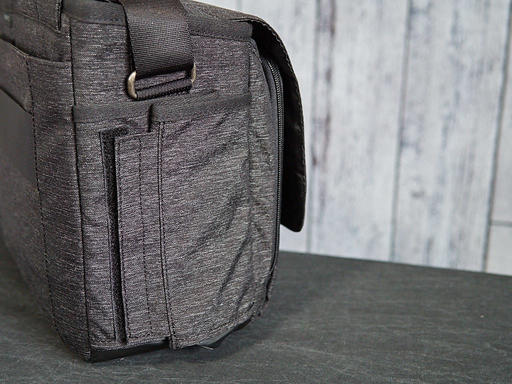 The side water bottle pocket is my favorite to date. Instead of an "all or nothing" approach (either closed or opened), there's now a middle position that's perfect for sunglasses and other quick-reach accessories. When you do want a water bottle in the pocket, it opens up nice and big to accommodate just about anything you'd bring along. If you don't need anything there, you can fold up the pocket for a slim look.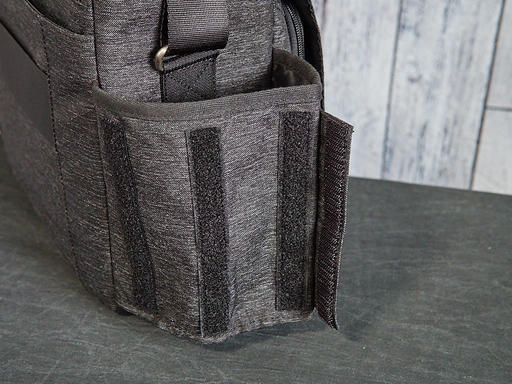 The overall stability of the Vision 13 is also welcomed. The bag sits firmly upright without leaning forward or backwards. The base is solid (and waterproof) and the sides are straight. It looks good on a table, desk, or next to you in the car.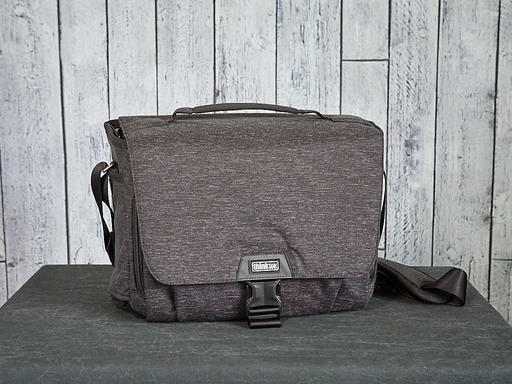 The zippered lid on top is a good security feature that you can use with or without the buckling top flap. Most of the connectors are zippers or the main buckle, with spots of velcro only as needed. So this bag is more quiet that my Retrospective. No ripping velcro sounds!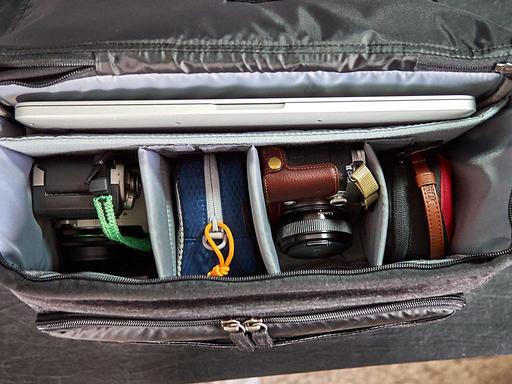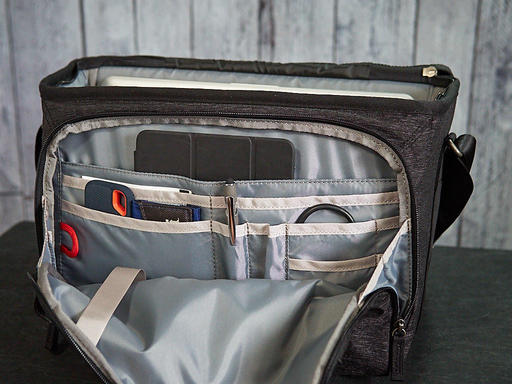 As you may imagine, there are plenty of pockets for a 13" laptop, 10" tablet, camera bodies, lenses, phones, SSD drives, pens, and whatever else you need to bring along. I appreciate the document pockets on front and back. They are easy to access and truly handy.
I also really like the fabric used for the graphite version. It looks great and feels good, yet it's weather resistant. The zippers are top notch, as always with Think Tank gear, and there are plenty of internal dividers to customize the main compartment to your particular needs.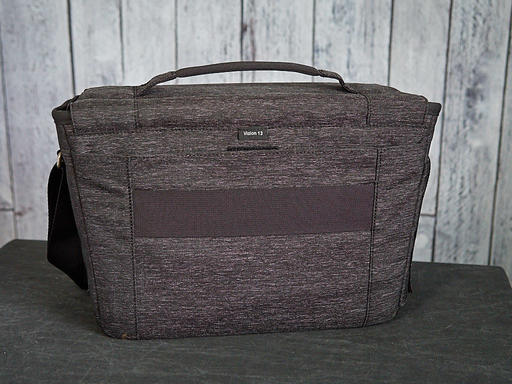 We get both a document pocket and a trolley strap on the back. Plus you can attach a tripod or a rolled up jacket on the bottom of the bag using the included (removable) buckles. Nice touch indeed. The top handle is convenient and comfortable to hold. And the shoulder strap is plenty long with an excellent sliding pad.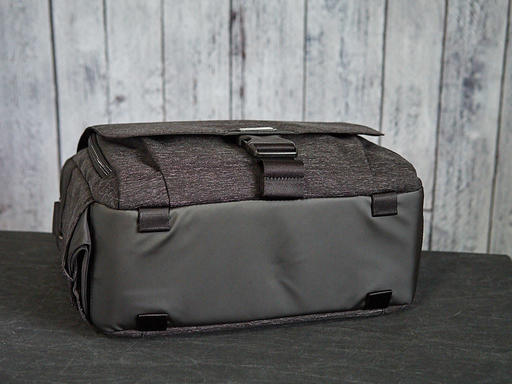 Overall, the Think Tank Photo Vision 13 Shoulder Bag is my favorite urban model from them to date. I truly like it. And at $129, it's a good value as well.
You can share your thoughts at the TDS Facebook page, where I'll post this story for discussion.