This is The Digital Story Podcast #668, Jan. 1, 2019. Today's theme is "Happy New Year!." I'm Derrick Story.
Opening Monologue
I want to take a moment to acknowledge our productive 2018 and express my optimism for the year ahead. I'm not going to take much of your time today - just a few thoughts before we get back into full swing next week.
Happy New Year!
Regular listeners know that I'm up late every Monday night putting the final touches on our weekly podcast before I call it a day. I'm going to be up late this Monday as well, but for once not producing the show, rather, bidding farewell to a challenging, productive, and sometimes exhausting 2018.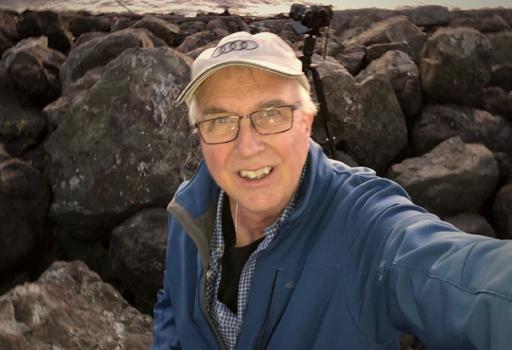 One of things that keep me energized this past year was this photography community. Knowing that no matter what happened in this crazy world of ours, we would get together once a week and focus only on the art and science of image making.
There have been weeks when this show was an island of calmness in an otherwise sea of madness. And for that, I thank you, each and every one of you.
Next week, we fire up the machine again and begin the year with an interview with Ibarionex Perello of the Candid Frame. I'll also be in Las Vegas for CES, and will be reporting on the things that I discover there. It's going to be a fast start to 2019. I'm so glad that you'll be there with me.
Do You Have a Film Camera that Needs a Good Home?
Over the last year, I've received donations from TDS members who have film cameras that need a good home. What I do is inspect the items, repair and clean as I can, then list them in TheFilmCameraShop where I can find a good home for them. If you're interested in donating, please use the Contact Form on TheNimblePhotographer site. And thanks for you consideration!
I've Booked Our Accommodations for the Joshua Tree Workshop this Coming March
We have two more spots on the reserve list for the Joshua Tree High Desert Adventure this coming March. Full itineraries go out this week to reserve list members.
The Adobe Rockpile is located conveniently on the way to Joshua Tree National Park,just minutes from the west entrance. Enjoy our Hammock,hot tub,views, and desert scenery!This Property is the perfect blend of comfort, convenience, nature, and high desert style.
The Adobe Rockpile is located in the most beautiful neighborhood in the hills of Yucca Valley. It feels like you are out in the national park, but are only one to two miles away from all the in-town amenities. Surrounded by open space, boulders and other custom homes with plenty of space in between, you will feel all the comforts of home and more in this neighborhood.
If you want to join us in March, If you want to join us in 2019, and I hope you do, please visit the Workshops Signup Page and place your $100 deposit. That will secure your ability to attend when official registration begins.
Updates and Such
Inner Circle Members: We have a new photo challenge: "Repetition of Pattern." Tune into your Patreon page for all of the details. Challenge runs through Jan. 15, 2019. The honoree receives an official Nimble Photographer water bottle made by Victorinox.
B&H and Amazon tiles on www.thedigitalstory. If you click on them first, you're helping to support this podcast. And speaking of supporting this show, and big thanks to our Patreon Inner Circle members:
And finally, be sure to visit our friends at Red River Paper for all of your inkjet supply needs.
See you next week!
More Ways to Participate
Want to share photos and talk with other members in our virtual camera club? Check out our Flickr Public Group. And from those images, I choose the TDS Member Photo of the Day.
Podcast Sponsors
Red River Paper - Keep up with the world of inkjet printing, and win free paper, by liking Red River Paper on Facebook.
Portfoliobox - Your PortfolioBox site is the best way to show off your best images.
The Nimbleosity Report
Do you want to keep up with the best content from The Digital Story and The Nimble Photographer? Sign up for The Nimbleosity Report, and receive highlights twice-a-month in a single page newsletter. Be a part of our community!
Want to Comment on this Post?
You can share your thoughts at the TDS Facebook page, where I'll post this story for discussion.