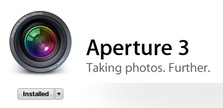 Sometimes a great deal is nothing more than that. A perfect example is Aperture 3.1.1 for only $79 in the new Mac App Store. This is a great price compared to the $199 it will cost you in the online Apple Store.
I read some speculation today that the $79 offering represented a "closeout sale" for Apple's professional photo management software. Really? Rumors of Apple abandoning Aperture have been around about as long as the application itself.
My take on all of this? This is a fantastic price in the Mac App Store. And if you don't have Aperture already, and want it, buy it now. I predict that Aperture will with be us for quite some time.
Aperture Tips and Techniques
To learn more about Aperture 3, check out my Aperture 3 Essential Training on Lynda.com. Also, take a look at our Aperture 3 Learning Center. Tons of free content about how to get the most out of Aperture.
---