There are plenty of refinements and new features in the public beta of Adobe Lightroom 4, but the two tools that caught my eye are the robust video handling capabilities and soft proofing. I cover both of these, and more, in my latest Macworld Magazine article, Adobe Lightroom 4 Beta shines with new video capabilities.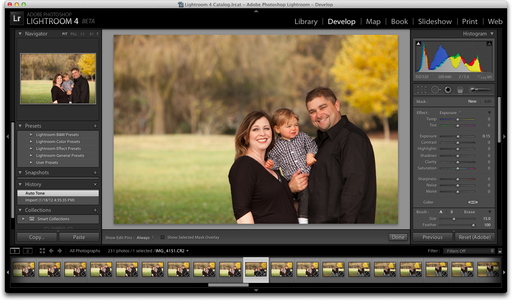 The Lightroom 4 public beta can be downloaded from the Adobe Labs site. You don't need prior versions of the application to try the latest. Once the final release comes out, you either have to buy it, or take the beta off your hard drive.
Even if you aren't a Lightroom person, this release is notable for a couple reasons. First, you get to see and test the areas of image editing that Adobe thinks is important. Recognizing that their emphasis is on video, personal books, and printing and web output, helps us see overall trends in photography.
I also think that Aperture 4 is probably not far behind. The competition between Adobe and Apple is fierce in this area, and my guess is that we will hear something about a new version of Aperture before long.
In the meantime, there's much to enjoy with this Lightroom release. Check out my Macworld article for more information.
---
The Digital Story on Facebook -- discussion, outstanding images from the TDS community, and inside information. Join our celebration of great photography!
---