This is The Digital Story Podcast #705, Sept. 17, 2019. Today's theme is "Time for a New Bag and Triple Cam Trippin'." I'm Derrick Story.
Opening Monologue
Sometimes you open up the closet, peruse your options, and mumble to yourself, "I just don't have anything to wear." In this case, I'm talking about camera bags. I have all of these great adventures lined up, and none of my existing carrying solutions feel right. So I did something about it. Also this week, I take a peek at the new triple camera trend in smartphones. Maybe we don't need a bag after all? Today, on the TDS Photography Podcast.
Time for a New Bag
Nobody wants to explore the magnificent Redwoods with a suitcase in hand. Now, I wasn't planning on doing that, but my existing urban gear just didn't feel appropriate, and my current backpacks look like they have thousands of dollars of gear inside.
I wanted something that was more like the Big Lebowski and less like Wall Street goes to the forest. So I made a checklist of features that I wanted, starting with "casual vibe," and began nosing around on the Internet. When I found the Vanguard Havana 48 ($103), my first impression was that I had hit pay dirt.
But how would the pack hold up during testing? Was it all looks and no brains? Here are the features that are important to me:
Lots of room to serve as my Point-A to Point-B gear bag. (This is the bag that goes from the house to the hotel, with everything in it. I can then switch to a smaller bag for the field once I'm there.)

Looks more like a regular backpack than a photo bag. (I have a couple nice backpacks already, but they scream: "Lots of expensive equipment in here!")

Removable inserts allow me to convert it to a regular backpack. (Versatility is important. Maybe needs a change-up for a particular outing, and lunch and clothing are required instead of gear.)

Comfortable harness system so I can wear it for extended periods of time if necessary. (You never know when suddenly you have to hoof it for a distance.)

Plus it has to have:

Rain cover
Trolly sleeve
Fast laptop access
Easy iPad access
Dual water bottle pockets
Affordable
The bottom line. I like the Vanguard Havana 48. I really do feel like the dude with just a regular backpack. It does a good job of helping me organize my gear. And the extra room is really handy. I have a feeling that I will be using the Havana 48 for some time to come.
If you want to learn more about it, and see my pictures of the backpack, check out my review on The Digital Story.
Thoughts on the New Triple Camera iPhone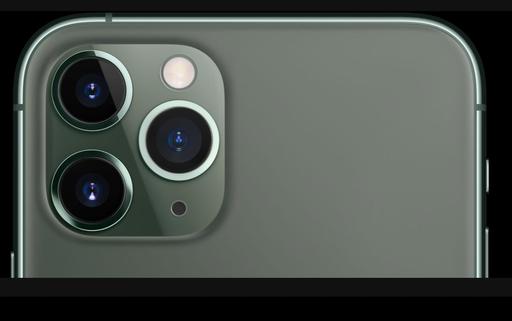 Last week Apple announced the iPhone 11 Pro with a triple camera setup. This is part of a trend that we are seeing by other manufacturers as well. What exactly is the triple camera?
It is exactly what it sounds like - 3 separate cameras integrated into one device. The cameras themselves are interesting.
The Ultra Wide - 13mm focal length with an f/2.4 aperture. It features a 5-element lens with a 120 degree field of view and a 12MP sensor.
The Wide Camera - Most of us are already familiar with this 26mm focal length with a f/1.8 aperture. This is the workhorse camera on top tier smartphones. Apple's has a 6-element lens with optical stabilization and a 12MP sensor.
The Telephoto Camera - This is a bit of a misnomer in that it's a 52mm lens at f/2.0. (My iPhone X is f/2.4.) It also has optical stabilization and a 12MP sensor.
The iPhone 11 Pro provides a 4X optical zoom range. This is different, and better, than digital zoom which is based on electronics and not actual lenses.
You start adding other features, such as Night Mode, Portrait Mode, Smart HDR, and you can see why many people consider Apple a camera company as well as computers and tablets. They've also brightened the flash by 36 percent, which is think is very important. And the display is improved as well.
Humboldt Redwoods Workshop This Week
I'm thrilled that our Humboldt Redwoods Workshop is finally here. There's a little rain in Northern CA right now, which is going to make the redwoods this wonderful, mystical, fragrant environment for our photography.
I'm working on next year's workshop schedule, and I'll be announcing the line up in October. Stay tuned for more information.
Updates and Such
Inner Circle Members: A big thanks to those who support our podcast and our efforts!
Podcasting Skills Course - The first two course dates are scheduled for October 12 and November 9, 2019. Registration is open now at www.thenimblephotographer.com. Click on the Workshops tab.
B&H and Amazon tiles on www.thedigitalstory. If you click on them first, you're helping to support this podcast. And speaking of supporting this show, and big thanks to our Patreon Inner Circle members:
And finally, be sure to visit our friends at Red River Paper for all of your inkjet supply needs.
See you next week!
More Ways to Participate
Want to share photos and talk with other members in our virtual camera club? Check out our Flickr Public Group. And from those images, I choose the TDS Member Photo of the Day.
Podcast Sponsors
Red River Paper - Keep up with the world of inkjet printing, and win free paper, by liking Red River Paper on Facebook.
The Nimbleosity Report
Do you want to keep up with the best content from The Digital Story and The Nimble Photographer? Sign up for The Nimbleosity Report, and receive highlights twice-a-month in a single page newsletter. Be a part of our community!
Want to Comment on this Post?
You can share your thoughts at the TDS Facebook page, where I'll post this story for discussion.