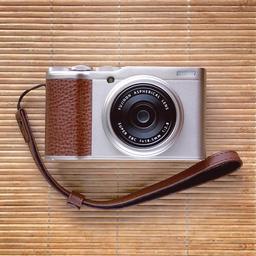 Good news for existing Fujifilm photographers with a new firmware update for the svelt Fujifilm XF10 compact camera ($449). Version 1.11 addresses the following issues.
The phenomenon is fixed that a display of the focused AF area is shifted when enlarging a recorded image by the touch zoom function.
The phenomenon is fixed that images are not recorded in the selected step of AE bracketing under a specific shooting condition.
Fix of minor bugs.
Hidden in the third item is improved autofocusing performance including the XF10 no longer back-focusing at subject distances less than 10 feet. I applied the firmware update in just a few minutes, and indeed I feel like it's enhanced that camera that I already adore.
To update your firmware, first check your current version by holding down the DISP/BACK button while powering up the camera. I was at version 1.10.
Then download the firmware 1.11 update and read the installation instructions. Essentially, you format a card, add the update to it, then install by holding down the DISP/BACK button while powering up. Make sure you have a charged battery. The update just takes a minute or so.
Now, enjoy improved performance!
There are product links in this article that contain affiliate tags. In some cases, depending on the product, The Digital Story may receive compensation if you purchase a product via one of those links. There is no additional cost to you.
You can share your thoughts at the TDS Facebook page, where I'll post this story for discussion.