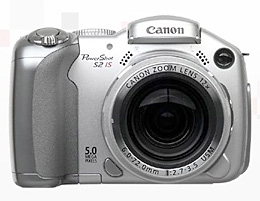 The Canon PowerShot S2 IS is the current favorite choice among those who ask me for camera advice.
As you can imagine, I get lots of inquires this time of year concerning the best camera to buy. For those who are looking for an all-in-one prosumer model, the Canon PowerShot S2 IS has been the model most often selected among the options I present. Why do people like this camera? The 12X optical zoom combined with image stabilizer is appealing in a package that is light to carry around. 5 megapixels is enough resolution for most folks, especially considering that they won't have to do much cropping thanks to the optical zoom range. And the street price of $450 is within reach of most camera-buying budgets.
I do think the S2 is a terrific camera. That's why it's on my short list of consumer recommendations. But the news here is how popular it's been with people who actually plunk down their hard earned dollars.
Technorati Tags: camera, equipment, photography