Adobe just released an update to Photoshop Express that includes integration with Flickr and "Save As" functionality. Plus, there's a new embedable player that allows users to post their Photoshop Express slideshows to sites such as Facebook, Myspace, and personal blogs.
You may have caught wind of this update earlier in the week when some sites reported about it. But Adobe had to pull it back on May 7 because they discovered a bug. By Friday, May 9, they had everything cleaned up and ready for users.
---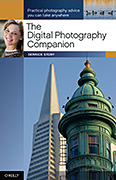 Now Available! The Digital Photography Companion. The official guide for The Digital Story Virtual Camera Club.
25 handy and informative tables for quick reference.
Metadata listings for every photo in the book
Dedicated chapter on making printing easy.
Photo management software guide.
Many, many inside tips gleaned from years of experience.
Comprehensive (214 pages), yet fits easily in camera bag.
---
Technorati Tags: digital photography, Technology, The Digital Story, Adobe Photoshop Express