I have plenty of serious shooting on my dance card. But sometimes I just want to have fun with a camera. I wanted to take some candids at a street fair in Santa Rosa last weekend (an Oktoberfest at a local church), but what I was really after was a good time. I decided to go with an Olympus PEN and the 17mm f/2.8 lens, adding the accessory optical viewfinder.
With all of the latest innovations in micro four thirds, you don't read a lot about this combination. It was part of the original offering. And it's still one of my favorite rigs.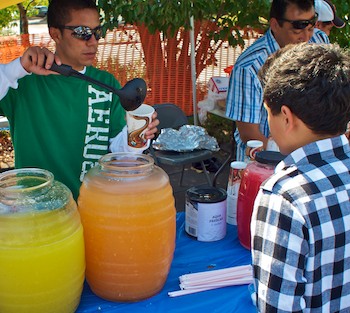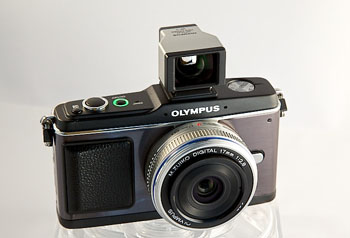 The optical viewfinder (VF-1 $80) pairs with the Olympus 17mm f/2.8 prime lens ($275). The effective focal length on the micro four thirds body is 34mm, perfect for most street shooting.
Now here's where the enjoyment comes in. I turn off the LCD, which is virtually useless in bright sunlight anyway, and compose through the beautiful optics of the hot shoe mounted viewfinder. The image is clear and crisp. (Ah, the joy of glass!) I can leave my sunglasses on. It's a total casual experience that yields great results.
An added benefit is that people don't pay much attention to me with that camera around my neck. I can compose quickly and get the shot, often without attracting any attention. Every so often I take a break in the shade, review the shots on the LCD to make sure I'm getting what I think I've captured, then go back to shooting.
The quality of the prime 17mm is quite good. I always shoot in Raw so I can tame the contrasty lighting later in post production. I let the camera handle the autofocusing, which it does well.
We all want to take great shots. But there are those days when I want to enjoy myself during the process. That's a good time to use this type of rig.
---
The Digital Story on Facebook -- discussion, outstanding images from the TDS community, and inside information. Join our celebration of great photography!
---