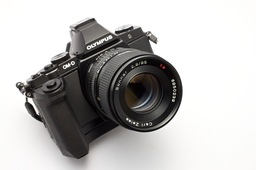 Even though I would love to buy the Olympus 75mm f1.8 lens
for my OM-D, it's just not in the budget right now. But I do have a beautiful manual focus Carl Zeiss 85mm f/2.8 lens from the days when I shot film with Contax SLRs.
So I decided to take this challenge: Do I still have the chops to shoot basketball with a manual focus lens?
I used a Rayqual micro four thirds adapter to mount the 85mm Zeiss on the OM-D. The first thing that struck me was how beautiful the combination of old and new looked together. In part, I think the retro styling of the OM-D lends itself to these types of lenses. So I quickly assembled the rig, and got into position to shoot.
And with the jump ball, we were off. The gym lighting was marginal at best, as is often the case in high school facilities. But by capturing the action at its peak, I was able to get a sharp shot with a 1/80 shutter speed at f/2.8. ISO was set to 1600.
I decided to push the OM-D a bit further, and raised the ISO to 3200. An open door in the gym provided some rim lighting, which added elegance to the shot. Now my shutter speed was up to 1/250th.
I actually enjoyed using manual focus. I would prefocus on an area and capture the action as it flowed in that direction. At 9 fps, I was able to begin the sequences early and shoot all the way through. For the static shots, such as the "time out" below, I liked twisting the focusing ring back and forth to get just the look I wanted.
Bottom line: this combination is a keeper. I've made the 85mm Zeiss a permanent member of my micro four thirds camera bag. This manual focusing thing isn't so bad after all.
---
You can find more photo tips and "photography how tos" on my Pinterest page.
---