I've been testing the Lowepro Urban Reporter Camera Bag for over a month, and it has become my favorite shoulder bag of all time. That's high praise indeed. And for very good reasons.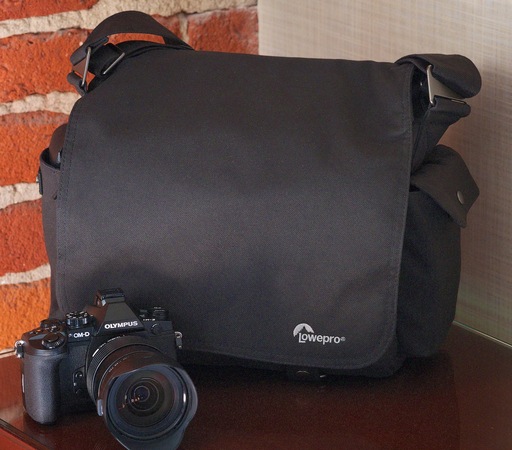 The Urban Reporter 150 accompanied me to San Francisco for a sneak peek of the Olympus OM-D EM1 in August 2013. Photo by Derrick Story.
This is a bag that you want to touch. The exterior fabric combines the feel of fine clothing with the durability of a high tech weave. It feels wonderful against the body. The experience is further enhanced with leather touch points, metal hardware and secure snap buttons. There is not one loop of velcro on the Urban Reporter itself (but the removable insert does have a bit of hook and loop - more on that later).
There are Four pockets on the exterior of the bag. The "snap open" side pockets are good for small accessories and sunglasses. You can close the snaps with one hand... well thought out indeed. The back document pocket doubles as a trolly sleeve when unzipped from the bottom. And the front zippered organizer area is perfect for headphones, business cards, filters, and cables.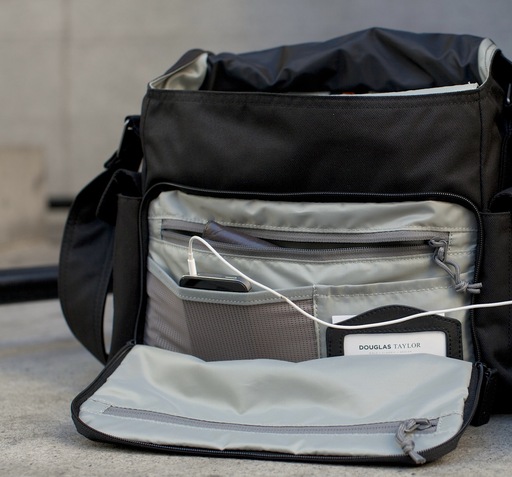 Inside the main compartment is a removable camera insert. This is an important feature. You can use the supplied insert for your camera gear, or remove it and design your own interior with other inserts, individual lens cases, or however you wish. I'll cover alternative packing configurations in a future post.
The Urban Reporter 150 includes a dedicated iPad sleeve inside the main compartment. And the Reporter 250 accommodates a 13" laptop in its sleeve. If you want to go big, the Reporter 350 can handle a 15" laptop. I've been using the 150 and 250 for my work. My everyday bag is the 150.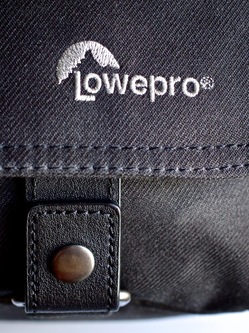 So why do I like the Urban Reporter so much? It's discreet, stylish, functional, and feels great. I've very much enjoying "real hardware" - metal buttons and leather pulls.
My "go with me everywhere all the time" kit is the Reporter 150 with an iPad, OM-D E-M5, and a few lenses. I use the Reporter 250 with the Canon 70D, 3 lenses, and the MacBook Air. I'm comfortable with it at home, in the office, at Starbucks, and meeting with clients. It's a great shoulder bag for urban dwelling nimble photographers.
You can learn more about the Urban Reporter on the dedicated Lowepro features page. I've found the best price for it at Amazon.com. I'll have more to share in future posts.
---
Join me on my Instagram site as I explore the world of mobile photography. And now Instagram features 15-second movies too.
Want to Comment on this Post?
You can share your thoughts at the TDS Facebook page, where I'll post this story for discussion.