Is a New DSLR Totally Out of the Question? (Pentax K-3 III) - TDS Podcast
This is The Digital Story Podcast #788, April 27, 2021. Today's theme is "Is a New DSLR Totally Out of the Question? (Pentax K-3 III)." I'm Derrick Story.
Opening Monologue
With all the mirrorless announcements from Sony, Canon, Nikon, and others, it seems as though the DSLR is going the way of the film camera. But there's one holdout against this trend, Pentax, and the just-announced Pentax K-3 Mark III has some truly interesting features, including outstanding high ISO performance. So, are the reports of DSLR death are greatly exaggerated? We'll explore this idea on today's TDS Photography Podcast.
Tune-In Via Your Favorite Podcast App!

---

Apple Podcasts -- Spotify Podcasts -- Stitcher

Podbean Podcasts -- Podbay FM -- Tune In
Is a New DSLR Totally Out of the Question? (Pentax K-3 III)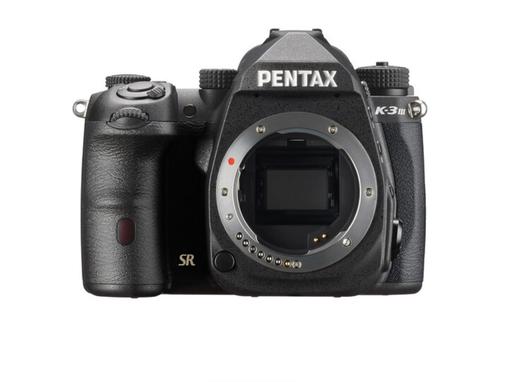 I must admit, I'm a bit fascinated by this camera. Let's start by taking a look at some of its highlight features.
High ISO Performance - Specs say 100 to 1,600,000. More on this in a few minutes.

1.05x-Mag. Pentaprism Optical Viewfinder The pentaprism's design has also been updated to use high-refraction glass, optimized coatings, and a distortion-correcting element to reduce aberrations and promote high clarity and color fidelity.

25.7MP APS-C BSI CMOS Sensor - Sports a BSI design that promotes low noise, smooth tones, and accurate color rendering throughout the sensitivity range, from ISO 100-1600000, to suit working in a variety of lighting conditions.

Up to 12 fps Continuous Shooting

Real-Time Scene Analysis System - Using the high-density RGBIr sensor and the PRIME V image processor, the K-3 Mark III can use the Real-time Scene Analysis System to optimize exposure and AF accuracy by detecting subjects' faces and eyes with image recognition technology. This system relies on Deep Learning, an AI-based technology, for more accurate subject detection and scene judgement.

5-axis SR II Shake Reduction system provides 5.5 stop-effective image stabilization - Beyond controlling camera shake, the SR II mechanism also benefits stills applications by enabling a Pixel Shift Resolution feature and an AA Filter Simulator function. Pixel Shift Resolution shifts the sensor in small increments in sequential shots in order to capture full color information at each pixel site, then composites these sequential frames to produce a single image with richer detail and resolution. The AA Filter Simulator, on the other hand, utilizes microscopic vibrations during the capture process to help mitigate moiré in order to produce clean renderings of fabrics and other high-frequency materials. This system works in conjunction with the sensor that lacks an AA filter, so you have the choice between gaining the most resolution or reducing moiré under specific scenarios.

SAFOX 13 Phase-Detection AF - Updated with more points and improved coverage, the SAFOX 13 autofocus sensor is a phase-detection focusing system that uses 101 individual points, including 25 cross-type sensors in the middle of the image frame. This array benefits focusing speed and accuracy in a variety of lighting conditions, down to -4 EV. Additionally, a new 307000-pixel RGBIr sensor and new tracking algorithm also promote more accurate tracking of subjects, even when moving at varying speeds or in irregular directions.
So I was studying this article on Petapixel titled, A High ISO Shootout: Pentax K-3 III vs. Sony a7 III, and was amazed at the ISO performance of the Pentax.
"Image quality is outstanding up to ISO 6400 and still looks clean at ISO 12800 in my opinion. Even ISO 25600 looks good enough to print up to A3 if like me you don't mind some grain. Heck, if all you need is a small postcard print and the noise is not a bother, you can go as high as ISO 204,800 in some cases and still get an acceptable image."
"For this comparison, I decided to go with the highly regarded Sony a7 III. Please note that is nothing more than a look at how far APS-C technology has come in that it can compete with a larger sensor. This is not a brand comparison. Looking at ISO 100-1600, there is no visible difference between both cameras.
"Even going up to ISO 6400 and ISO 12800, I can't see any advantage on either side. ISO 25600 is where I am really surprised. The APS-C PENTAX looks slightly cleaner to me than the full-frame camera. Looking at the maximum ISO of the Sony at 204800, they are both pretty much the same. Neither is usable for this shot, but one is not worse than the other though the PENTAX does better on the color."
Interesting Notes
I think for some folks, the feeling is that they will have outdated technology if they purchase a DSLR in 2021. But after reviewing the features in the Pentax K-3 Mark III , that doesn't seem to be the case.
So then it really comes down to form factor, EVF, and what feels better in the hands. A compact DSLR isn't very much bigger than most full frame mirrorless cameras. You can use Live View on the 3.2" LCD for a preview of the image, and the optical viewfinder the rest of the time.
I'm not saying that the K-3 Mark III is going to spark a DSLR comeback. But it's nice to see a competent camera for those who still enjoy a quality optical viewfinder and the feel of a DSLR.
The New Donation Kit for Carefree Shipping of Found Film Cameras
We have more time around the house than ever. And you finally dove into that bedroom closet that's been begging for some organization.
If you found a film camera that you're no longer using, our new Donation Kit makes it easy to pack and ship. Just visit the Contact Form on thenimblephotographer.com, click the box next to Donating a Film Camera, and let me know what you have. In your note, be sure to include your shipping address.
If it's a camera we can use for the shop, I'll send you a Donation Kit that includes a USPS Priority Mail shipping box and prepaid label. All you have to do is tape it up, insert the camera, and add the label. USPS will pick up your shipment from the front door of your house during their regular mail delivery. It's that simple!
Your donation help get analog gear in the hands of aspiring fine art photographers, and the proceeds help support this podcast.
Love Crop Sensors? Exciting Possibilities for the Future
You can read the entire article on The Phoblographer.
The internet loves to predict doom and gloom for cameras with crop sensors. How many years have we heard that Micro Four-Thirds is dead? Current offerings remain quite capable cameras. However, camera technology has been advancing rapidly. Brands like Fuji and OM-Digital Solutions (referred to as OMDS from here on) heavily rely on these cameras to survive. What do they need to do to remain relevant?
It seems that AI and deep-learning tech are here to stay. Interviews with people at Fuji and OMDS seem to confirm this. Fuji has mentioned to Imaging-Resource that they are looking at AI for more than just autofocus. OMDS told DPReview that they plan to take advantage of the fast readout of their smaller sensors. What does this mean for us? New technology could help to negate the downsides of crop sensors. Denoise technology has also jumped leaps and bounds. DxO Lab and Topaz have really begun to show us what AI Denoise is capable of.
What if we could see Full Frame level low-light performance from Micro Four-Thirds? If processing power and new sensor tech can deliver better signal-to-noise ratios, the possibility is there. We saw a great example of this with the Nikon Z50. However, I hope they don't go overboard here. There's definitely something about the organic feel of an image that isn't clinically clean. And of course, AI will continue to play a large part in new autofocus technology.
Some of the points include: Olympus Had Great Ideas, More Please; Could Modular Cameras Be the Future?; Crop Sensors Are Still Great for Video; and Will New Tech Be Enough To Save Crop Sensors? Only time will tell what the industry's brilliant engineers will do next. However, what if these technologies are implemented in larger sensor cameras too?
Virtual Camera Club News
Photos for macOS Big Sur and iPhone Essential Training
This course was just released on LinkedIn Learning and lynda.com. It shows you how to leverage both the latest iPhone technology with Photos software, on both your Mac and mobile devices.
"With the free Photos for macOS software from Apple, you can manage, enhance, and share photos in a variety of ways. In this course, photographer, author, and educator Derrick Story takes you on a detailed exploration of Photos for macOS. Derrick starts with a quick-start introduction to taking pictures on your phone, then editing them with Photos and sharing them. He walks you through how to use the options available to you when you're recording video. Derrick also covers several advanced iPhone camera techniques, such as switching among cameras, controlling the flash, working with ProRAW, and more. He covers each step of the process to edit pictures in Photos for macOS, then does the same for editing videos. Derrick offers some useful tips to enhance your experience using Photos, then concludes with resources to help you learn more."
You can Photos for macOS Big Sur and iPhone Essential Training here.
Inner Circle Members: A big thanks to those who support our podcast and our efforts! (And welcome to our new members.)
My Writing on Medium.com: I now have more than 25 published articles on Medium.com. And if you haven't visited the site, and enjoy good writing on a variety of topics, I suggest that you may want to take a look. You can just go to the home page and enter "Derrick Story" in the search field. And if you like what you read, then follow me!
EV Explorers for Those Who Are Interested in Electric Cars: I've created a new group on DerrickStoryOnline titled EV Explorers. The tagline for this group is: "Bringing Curiosity and Nimbleosity to the World of Electric Vehicle Transportation." Here we can share information, tips, discoveries and more about using electric vehicles for our photography adventures. If you want to join this group, click on this link for an invite. We're going to keep this as a private group for now, but you are invited to join us.
Affiliate Links - The links to some products in this podcast contain an affiliate code that credits The Digital Story for any purchases made from B&H Photo and Amazon via that click-through. Depending on the purchase, we may receive some financial compensation.
And finally, be sure to visit our friends at Red River Paper for all of your inkjet supply needs.
See you next week!
Product Links and Comments
There are product links in this article that contain affiliate tags. In some cases, depending on the product, The Digital Story may receive compensation if you purchase a product via one of those links. There is no additional cost to you.
You can share your thoughts at the TDS Facebook page, where I'll post this story for discussion.