This is The Digital Story Podcast #800, July 20, 2021. Today's theme is "Introduction to Infrared Photography." I'm Derrick Story.
Opening Monologue
Mysterious, wonderful, sometimes psychedelic, infrared photography can both marvel and baffle photographers at the same time. If you've been curious about IR, consider today's show an introduction to help you decide if this is the next new frontier for you. I hope you enjoy the show.
Digital Photography Podcast 800
Tune-In Via Your Favorite Podcast App!

---

Apple Podcasts -- Spotify Podcasts -- Stitcher

Podbean Podcasts -- Podbay FM -- Tune In
Before we get into the meat of today's show, I just have to say this: 800 episodes!
Introduction to Infrared Photography
The IR spectrum lives beyond how we normally view the world of visible light. But we can pull back the curtain and take a peek with our cameras and a simple IR filter. Once you do that however, you may get hooked. Infrared photography is one of the most fascinating explorations for visual artists.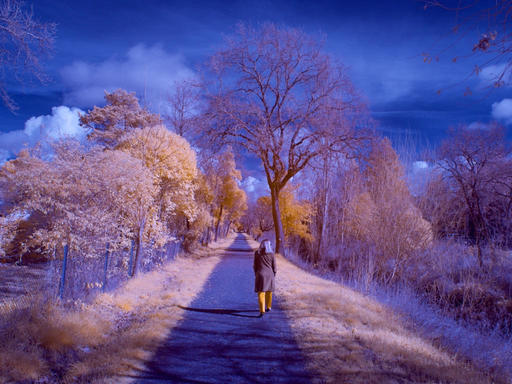 I thought a good way to get us started is by leading a Q&A session. These questions have come up repeatedly during my IR workshops, and my guess is that many of them would be of interest to you as well.
Infrared Q&A
Do I need a special camera to make IR photos?
If I did want to get a modified camera for IR, what should I look for?
Why do the colors sometimes look so weird in IR photography?
Will my camera focus properly when capturing infrared?
What's the best software to process infrared photos?
Workshop Swap for September
I'm adding a Infrared Photography Workshop for Sept. 22, 2021, replacing the ON1 Effects event that was originally planned for that time slot.
If you visit our TDS Workshops Page, you'll see a variety of topics including the new IR workshop.
TTArtisan releases $150 7.5mm F2 fisheye APS-C lens for 7 camera mounts
You can read the entire article here on DP Review.
TTartisans has released a new 7.5mm F2 fisheye lens for a long list of mirrorless camera systems.
The lens is constructed of 11 elements in eight groups, including two low-dispersion elements and three high-refractive index elements. It features a minimum focusing distance of 12.5cm (5"), uses a seven-blade aperture diaphragm and has an aperture range of F2 through F11. Due to the front element extending beyond the front of the lens, no filters can be used without third-party adapters.
The lens is available for Canon EOS-M, Canon RF, Fujifilm X, Leica L, Micro Four Thirds, Nikon Z and Sony E mount camera systems. However, due to it being an APS-C lens, full-frame cameras will need to be used in crop shooting mode or crop in in post-production to avoid a circle vignetting.
TTArtisan doesn't mention physical measurements, but does note the lens weighs between 343-370g (12-13oz), varying based on the lens mount version you choose. The TTArtisan 7.5mm F2 fisheye lens is available from TTArtisan's online shop for $149 in each of the aforementioned mounts. The first orders will ship out on July 21, 2021.
Nikon Says Z fc Shipments Will Be Slow, Delays 28mm f/2.8 Kit Indefinitely
You can read the entire article here on Petapixel.
Nikon has announced that while it intends to begin shipping Nikon Z fc cameras on schedule starting July 23, it does not have the supply to meet all demand. Additionally, overwhelming numbers of orders for the 28mm f/2.8 special edition kit have forced the company to delay it indefinitely.
The "Z fc 28mm f / 2.8 Special Edition Kit," which is scheduled to be released in late July 2021, has received a large number of reservations beyond expectations, and due to the delay in parts supply, the supply amount is sufficient for release. Is not expected to be available. Therefore, we have decided to postpone the release. We will inform you of the release date as soon as it is confirmed.
We sincerely apologize for any inconvenience caused to customers who are waiting for our products. We will do our utmost to deliver the product as soon as possible, and we appreciate your understanding.
A shortage of parts, likely caused by the global silicon shortage and the AKM factory fire last year, has resulted in extremely slow production from Nikon and other camera manufacturers over the last year. At the time, AKM factory leadership expected to be able to rebuild and restart production quickly, but the company was only able to start the recovery process in April of this year -- six months after the fire. It will be some time before AKM is able to return to its former manufacturing level. The lack of parts combined with Nikon shuffling its own factories has likely exacerbated the production issue for the camera company. Just like with AKM, it may be a while before Nikon is able to return to full manufacturing capacity.
Virtual Camera Club News
Inner Circle Members: A big thanks to those who support our podcast and our efforts! (And welcome to our new members.)
My Writing on Medium.com: I now have more than 25 published articles on Medium.com. And if you haven't visited the site, and enjoy good writing on a variety of topics, I suggest that you may want to take a look. You can just go to the home page and enter "Derrick Story" in the search field. And if you like what you read, then follow me!
EV Explorers for Those Who Are Interested in Electric Cars: I've created a new group on DerrickStoryOnline titled EV Explorers. The tagline for this group is: "Bringing Curiosity and Nimbleosity to the World of Electric Vehicle Transportation." Here we can share information, tips, discoveries and more about using electric vehicles for our photography adventures. If you want to join this group, click on this link for an invite. We're going to keep this as a private group for now, but you are invited to join us.
Affiliate Links - The links to some products in this podcast contain an affiliate code that credits The Digital Story for any purchases made from B&H Photo and Amazon via that click-through. Depending on the purchase, we may receive some financial compensation.
And finally, be sure to visit our friends at Red River Paper for all of your inkjet supply needs.
See you next week!
Product Links and Comments
There are product links in this article that contain affiliate tags. In some cases, depending on the product, The Digital Story may receive compensation if you purchase a product via one of those links. There is no additional cost to you.
You can share your thoughts at the TDS Facebook page, where I'll post this story for discussion.