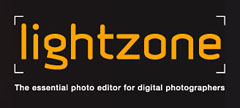 LightZone was demoed at the recent Macworld Expo and caught the attention of many photographers. It is a "designed from the bottom up" image editor that protects your original files and only associates editing instructions to it. This is a popular (and welcomed) approach also embraced by Apple's Aperture and Adobe's Lightroom.
Even though LightZone has an image viewer and file browser, its real appeal is how it analyzes your pictures then displays the shapes and densities of the tonal zones for easy editing. This visual approach should feel very natural to photographers.
LightZone is currently a Mac application that requires OS X 10.3.9 or later. A Windows version is coming soon. You can download a demo and try if for free for 30 days. If you like what you see, LightZone can be purchased for $249.
Technorati Tags: image, photography, product review