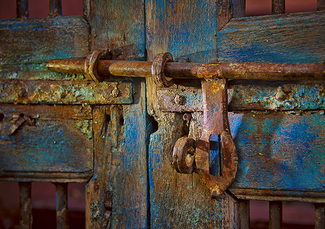 I have an LED flashlight in my camera bag, and you probably do too. Recently I read an article titled LED Flashlight Used as a Key Light that reminded me that these devices are good for more than finding lost items in the bottom of a backpack.
Photographer Doug Kaye wanted to enhance the texture and color of corroded latch on a weathered door in Santa Fe, New Mexico. "By using a small handheld LED flashlight as a key light and underexposing by -2 EV (aperture priority), I was able to get rich saturation in the upper midtones and full detail in the highlights while giving up the shadows," writes Doug in the article.
He liked the result and decided to make a 24x17 SizzlPix of the image. I had the chance to talk with Doug about this a few days later at the TDS June Photography Workshop. He said, "I should have made it bigger."
Carrying a LED flashlight doesn't take up much room, but it has a variety of uses in the field... including serving as a key light for a memorable image.
---
The Digital Story on Facebook -- discussion, outstanding images from the TDS community, and inside information. Join our celebration of great photography!
---