This is The Digital Story Podcast #770, Dec. 22, 2020. Today's theme is "Using Your Smartphone with Your Digital Camera, Not Instead of It." I'm Derrick Story.
Opening Monologue
There's been so much talk about how smartphones will replace our digital cameras. But I think for nimble photographers, that's the wrong approach. Instead, let's explore how we can use smartphones with our digital cameras instead of replacing them. I'll share one scenario today with a Fujifilm X100V and iPhone 12 Pro Max. I hope you enjoy the show.
Using Your Smartphone with Your Digital Camera, Not Instead of It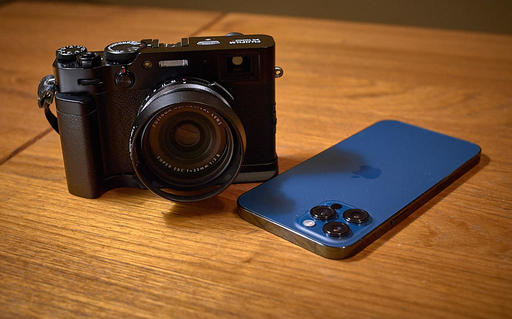 There are certainly situations when I want a digital camera with all its tools and conveniences, and other situations when my smartphone will work just fine. But to tell you the truth - the best scenario is having them both with me.
Digital Camera Benefits
Let's start with a list of benefits for digital cameras.
Digital cameras typically have great viewfinders that are superior in many situations.
Camera companies have years of color technology under their belt that we can take advantage of, such as Fuji's film simulations.
Larger sensors make it easier to control depth of field.
It's nice not to have your photo shoot interrupted by a text message or phone call.
Digital cameras provide more megapixels and larger photo sites.
Many digital cameras are quite beautiful and are inspiring to use, such as my Olympus PEN-F and Fujifilm X100V.
The option of interchangeable lenses help us meet a variety of photo opportunities.
Smartphone Benefits
Smartphones do have their advantages as well.
Smartphones are ultra compact, and we typically have one in our pocket at all times.
Smartphones tend to be more adept at computational photography helping us overcome common technical challenges.
Cellular and WiFi connectivity are wildly useful.
Mobile imaging apps are quite powerful and have become more useful as screens have grown larger.
Smartphone are ubiquitous and don't attract unwanted attention in sensitive situations.
Smartphones can house up to three prime lenses in a single device making them quite versatile.
Smartphones can provide instant cloud backup of our images.
Benefits of Using Them Together
So, if we combine one well-specified smartphone with a favorite nimble camera, what are the benefits?
You don't have to carry extra lenses and accessories. My iPhone 12 Pro Max has, for example, 26mm f/1.6 prime, 65mm f/2.4 telephoto, and a 13mm f/2.4 ultra wide. Combine that with the 35mm f/2.0 prime on my X100V or 34mm f/1.8 prime on the PEN-F, and I have a full kit.

I can process and upload images from anywhere. Connecting the iPhone with the X100V gives me a powerful workstation in the field.

Smartphone are infinitely versatile thanks to software that's immediately downloadable.

When you think about it, smartphones are high value purchases compared to comparable cameras. My iPhone 12 Pro Max and Fujifilm X100V costs about the same. And I have a complete camera kit for $2,800.

Smartphones allow me to shoot with cameras that I love, despite their shortcomings because the iPhone fills in the functionality gaps.

Digital cameras give me high resolution and smartphones provide broad versatility.
Now, when I walk out the door, I can configure my digital camera the way that I want (monochrome mode, portrait lens, etc.) knowing that if I encounter a situation that it doesn't work for, I have my iPhone 12 Pro Max to fall back on. Indeed, this is a dynamic duo that I would not want to split up.
New Workshop! Integrating iPhone into a Pro Photography Workflow
There's been a lot of discussion about how contemporary iPhones will replace digital cameras. But in practice, they are better for augmenting your image capabilities rather than serving as your sole capture device. And now with Apple ProRAW and iPhone 12 Pro, this becomes more true than ever.
This workshop is designed to help you best integrate your modern iPhone into a professional photography workflow. Because of its compact size and powerful features, it can replace many bulky accessories that we were once required to carry along.
In this workshop you will explore:
Working with just one digital camera and an iPhone.
Taking advantage of a versatile fast prime lens on your digital camera and using iPhone for additional focal lengths.
Perfecting a RAW workflow with the iPhone.
Leveraging Apple ProRAW for those who have iPhone 12 Pro.
Building a kit that allows you to travel lighter without compromising capability.
Post processing tips and techniques using Photos on Mac, iPad, and iPhone.
Investigating other software and workflows to augment your imaging prowess.
Photo assignments and weekly check-ins begin in early February 2021, with the grand finale final day on Feb. 27, 2021.
As part of this workshop you will have access to Derrick Story Online, our virtual headquarters where we compare notes, share pictures, and learn new techniques.
I'll hope you'll join me for this exciting event. Only 10 seats available. First come, first served.
You can register now for $135. Patreon members receive a $15 discount for this event.
Recommended Hardware for this workshop: iPhone X or newer. Mac running macOS Catalina or Big Sur.
Tips for Shooting Holiday Lights with iPhone
You can read the entire article here on Petapixel.com.
Here's how the article starts:
The holidays in New York City are my favorite part of the year. It's such a magical and festive time all throughout the City. You'll find holiday trees, light displays, and the prettiest decorations around every corner.
It's such a joy to take photos in New York City during that time, and I'm excited to share with you some of my favorite tips for capturing beautiful and creative photos of holiday decorations. The best part is you don't need fancy, heavy, or expensive photo gear. Just take out your iPhone and start snapping.
Whether you're a professional photographer or just someone who loves taking photos, I've found that my iPhone 12 Pro Max offers that versatility to meet you at whatever level you're at.
Updates and Such
Inner Circle Members: A big thanks to those who support our podcast and our efforts!
Affiliate Links - The links to some products in this podcast contain an affiliate code that credits The Digital Story for any purchases made from B&H Photo and Amazon via that click-through. Depending on the purchase, we may receive some financial compensation.
And finally, be sure to visit our friends at Red River Paper for all of your inkjet supply needs.
See you next week!
Product Links and Comments
There are product links in this article that contain affiliate tags. In some cases, depending on the product, The Digital Story may receive compensation if you purchase a product via one of those links. There is no additional cost to you.
You can share your thoughts at the TDS Facebook page, where I'll post this story for discussion.