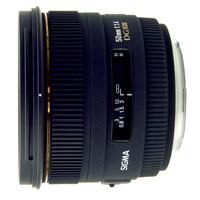 One of my biggest complaints about the Canon lens arsenal are their 50mm options. There is the sharp, but grindy 50mm f-1.8. This is the lens I use, but not the one I want. Canon's 50mm f-1.4 is only slightly better design wise, but soft at the edges when wide open. And the 50mm f-1.2 is huge and way to expensive for my budget. Therefore, I've begrudgingly stuck with the high-value but low sex appeal 50mm f-1.8 for all these years.
But Sigma may be coming to my rescue. They just announced their 50mm F1.4 EX DG HSM, and boy does it look sweet. It will be available in Sigma, Canon, Nikon, Pentax, and Sony mounts. Their specs are exactly what I'm looking for:
Standard lens with large maximum aperture of F1.4.
It creates sharp images with high contrast and ensures superior peripheral brightness.
Incorporates molded glass aspherical lens, perfectly correcting coma aberration and creating superior image quality.
Super multi-layer lens coating reduces flare and ghosting.
Hyper Sonic Motor (HSM) ensuring silent, high-speed AF with manual focus override.
Sigma had not announced price and availability yet. Oh please make it soon and affordable. I'll follow up as soon as I get my hands on one.
Technorati Tags: Canon, Lens, Technology, The Digital Story, Sigma