This is The Digital Story Podcast #625, March 6, 2018. Today's theme is "Like to Shoot, or Shoot for Likes?" I'm Derrick Story.
Opening Monologue
Social media has revealed something about photographers that we suspected before, but have now confirmed: They are more interested in receiving likes than suggestions. Some say this is an addiction. I think it's human nature. And I explore this topic on today's TDS Photography Podcast.
Like to Shoot, or Shoot for Likes?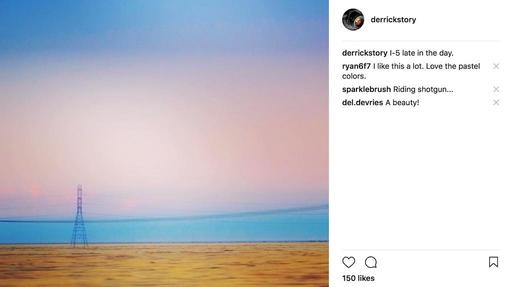 I've learned a lot about photographers, and people in general, over the last decade while working online for Lowepro, Rocky Nook, ct Digital Photography, TDS, and now Skylum as well.
Generally speaking, photographers who post images online feel good about the work they're sharing, and looking forward to positive responses about it. That is about as human as it gets, but it can also turn into a trap that compromises your artistic growth.
The likes are addictive. And if we don't pay attention to our own process, we can find ourselves creating work for the casual viewing general population, instead of pushing our own creative boundaries. Here's an example that you can try.
On Instagram, post a pretty sunset shot. Make sure that it's colorful and very postcard like. Tally the likes that you receive in a 24 hour period.
The next day, at the same time, post an image that is more challenging to the viewer, but one that you took some artistic risks with. Tally those likes over a 24 hour period.
Then compare. In most instances, the colorful sunset, which requires very little photographic skill, will garner the most likes. And if you become addicted to those likes, your work is in danger of following the path of colorful sunsets.
The art of receiving and giving constructive criticism.
Knowing when not to give a damn.
Finding watering holes where experienced photographers hang out.
Coming Up: Build Your Digital Darkroom with Photos (And Get a Free Signed Copy of My New Book)
Our next Nimble Classroom is on March 10, Build Your Digital Darkroom with Photos. Every participant receives a free signed copy of The Apple Photos Book for Photographers, 2nd Edition.
Come Join me at the Skylum Photography Public Group
I'm now moderating the Skylum Photography Public Group, and I would love to have interested members from our audience join me there.
The San Francisco Street Photography Workshop Update
I've published an informative article on the San Francisco Street Photography Workshop that you may want to take a look at.
San Francisco Street Photography - April 26-28, 2018 - We'll work entirely on location in San Francisco. Our hotel in picturesque Union Square will serve as our headquarters during the event. No rental car will be necessary. We'll explore the City's hidden treasures and capture them through our lenses. As always, we're adding new shooting locations again this year, including twilight assignments. This is San Francisco like you've never seen it before. And as a bonus, Olympus Visionary Mike Boening will be joining the teaching staff and leading sessions on street shooting and night photography. Two instructors, three days, and all for just $695. (That's right, it's 3 full days in one of the most photogenic cities in the U.S.)
New! TheFilmCameraProject on Instagram
Teresa Hummel wins the Pentax camera!
I've started a new Instagram feed just for film camera lovers. It's called TheFilmCameraProject, and it's for those who appreciate the beauty of analog SLRs.
Updates and Such
I now have the dates for the Sonoma Country Hot Air Balloon and Drone Photography Workshop, June 8-10, 2018. We're combining two very fun aerial activities into one workshop. Be sure to get on the Reserve List for this one!
You can become a member of our Inner Circle by clicking on this link or by clicking on the Patreon tile that's on every page of The Digital Story.
B&H and Amazon tiles on www.thedigitalstory. If you click on them first, you're helping to support this podcast. And speaking of supporting this show, and big thanks to our Patreon Inner Circle members:
And finally, be sure to visit our friends at Red River Paper for all of your inkjet supply needs.
See you next week!
More Ways to Participate
Want to share photos and talk with other members in our virtual camera club? Check out our Flickr Public Group. And from those images, I choose the TDS Member Photo of the Day.
Podcast Sponsors
Videoblocks - Go to videoblocks.com/digitalstory to get all the stock video, audio, and images that you can imagine for just $149. Save on millions of studio-quality clips, tracks, and graphics.
Red River Paper - Keep up with the world of inkjet printing, and win free paper, by liking Red River Paper on Facebook.
The Nimbleosity Report
Do you want to keep up with the best content from The Digital Story and The Nimble Photographer? Sign up for The Nimbleosity Report, and receive highlights twice-a-month in a single page newsletter. Be a part of our community!
Want to Comment on this Post?
You can share your thoughts at the TDS Facebook page, where I'll post this story for discussion.