Among its many virtues, the DJI Spark has an excellent video camera with 2-way gimbal built in. It's obviously great for making movies from a high vantage point. But thanks to the PolarPro Katana DJI Spark Tray ($49.99), we can use our quadcopter on the ground as well.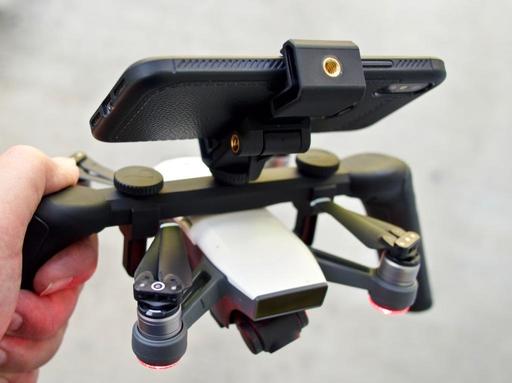 The concept is simple and the execution is excellent. PolarPro designed a lightweight, balanced mount for both the Spark and a smartphone (up to an iPhone 8 Plus in size) that makes it easy to record handheld video using the Spark's 2-axis stabilized gimbal camera. The phone, which serves as the video monitor, can be mounted at either a 45 or 90 degree angle. The Spark is mounted securely beneath it using a cleverly designed harness. The entire rig can be set up in just a minute or two.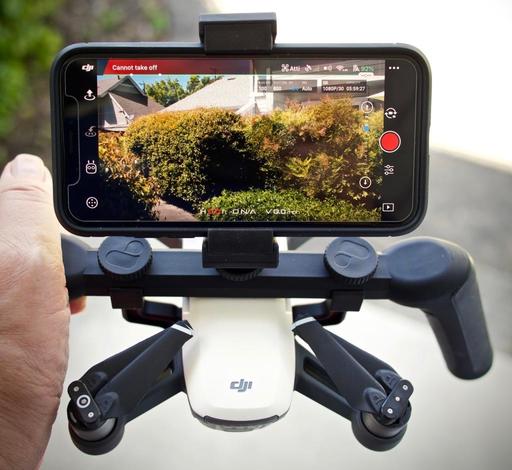 To use the tandem, fire up both the Spark and the phone, connect them via the DJI GO app, switch to video camera mode, and start recording. It's really that simple. The Spark's gimbal will keep your handheld movie as steady as a rock.
The Katana also works well as a steady grip for recording video with the iPhone itself. I found it much easier to capture footage with the grip than when trying to hold the iPhone by itself.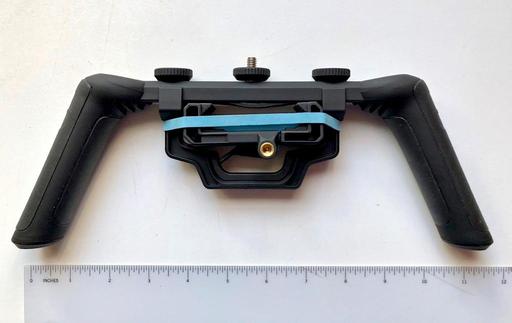 The PolarPro Katana is very light and only about a foot long. For easy storage in my backpack, I unscrew the phone mount and rubber band it inside the harness. That way, I always have it with me for video recording with both the Spark and the iPhone.
For the accompanying audio, I use an ultra-compact Instamic, then add the audio to the video when I'm editing in Final Cut X.
There are times that we can't fly our aircraft for various reasons. But if you have the PolarPro Katana with you, you can still capture great video footage.
More About the DJI Spark
Exporting a Single Frame from Video
You can share your thoughts at the TDS Facebook page, where I'll post this story for discussion.