This is The Digital Story Podcast #510, Dec. 15, 2015. Today's theme is "Photo App Smackdown." I'm Derrick Story.
Opening Monologue
So I've been promising everyone that I'm going to make a photo management decision by the end of the year. And true to my word, I have a trio of apps that will fill my toolbox in 2016. And that's what the focus of today's show will be.
Photo App Smackdown
It's difficult for me to replace Aperture with just one application. At the same time, this is an opportunity for me to broaden my horizons. My photography today is different than a decade ago, and weaving these three apps together satisfies my needs right now.
Core Management App: Capture One Pro 9 operating as a managed Catalog.
Cloud Based App and Video Organizer: Photos for OS X for backing up my iPhone photography, sharing online, video management, and plug-in fun.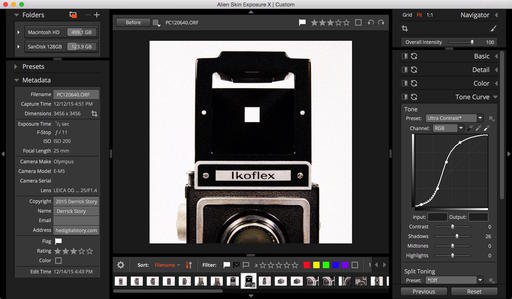 Fast Turnaround: Exposure X for sorting through a memory card quickly, rating images, applying edits, and sending photos along their way.
I explain my reasoning behind all three of these apps in today's feature story.
In the News
FAA Announces Drone Registration Date - c't Digital Photography
Registration for unmanned aircraft begins Dec. 21, 2015, says the FAA in a recent press release. This new requirement applies to owners of small unmanned aircraft (UAS) weighing more than 0.55 pounds (250 grams) and less than 55 pounds (approx. 25 kilograms) including payloads such as on-board cameras.
The normal registration fee is $5, but in an effort to encourage as many people as possible to register quickly, the FAA is waiving this fee for the first 30 days (from Dec. 21, 2015 to Jan 20, 2016). The form is online and can be completed at www.faa.gov/uas/registration.
Clean Out the Cruft
I've been testing CleanMyMac 3, and I have to tell you, I love this app. Using the Smart Clean feature, I removed 20GBs of cruft from my MacBook Pro.
Glow QuadraPop Portable Softbox
I don't know if you saw my review of the Glow QuadraPop Portable Softbox, but this is a nifty lighting accessory sold by Adorama. The kit comes with an adapter ring that you insert the flexible aluminum rods into, then expand it to a full 24" wide by 34" tall - a nice surface area for waist up portraits.
I originally tested it with a strobe. But I've since figured out how to mount a LCD light inside, and I'm digging it even more. I'll use it again for an upcoming portrait shoot on Wednesday.
The Screening Room
This week's Screening Room selection is Photos for OS X Essential Training with yours truly.
In this title I show you the ins and outs of this maturing application from a photographer's point of view. I explain how to use the new and sophisticated geotagging function. And I demonstrate the editing extensions, which provide an open door to this application that third party developers are using to add powerful new features.
Member Quote of the Week
Intelligent comments culled from The Digital Story Facebook page.
In regard to Monday's Facebook Post: Our 10 Favorite Film Cameras of All Time (by Shutterbug Magazine) - Rob Costain wrote: "I moved from Kodak Instamatic to an Olympus OM-10 in 1981, but my favourite camera of all is still the used Olympus OM-2 that replaced my OM-10. The OM-2 is small compared to its contemporaries and you can see why the Olympus E-Mx series is such a hit. I don't use my OM-2 much anymore, but I still keep it loaded with film."
Post your thoughts on our Facebook page. Believe me, I read them.
Adobe Lightroom Notecard and Greeting Card Templates
If you use Adobe Lightroom, Red River Paper has a collection of Fine Art Card Templates that you can download and use to simplify creating your greeting cards. They're free, and there are even tutorials on how to use them.
Found Treasure
The next edition of The Nimbleosity Report comes out this Wednesday, Dec. 16. You don't want to miss this issue! Sign up today to get in on the action.
Registration is open for The 2016 Street Photography Workshop in San Francisco. And I've posted the full preliminary itinerary on the Workshops page. And if you plan on ordering through B&H Photo or Amazon, please stop by the TDS site first, click on their respective ad tile, then place your order. That extra step helps support the site.
See you next week!
More Ways to Participate
Want to share photos and talk with other members in our virtual camera club? Check out our Flickr Public Group. And from those images, I choose the TDS Member Photo of the Day.
Podcast Sponsors
lynda.com - Learn lighting, portraiture, Photoshop skills, and more from expert-taught videos at lynda.com/thedigitalstory.
Red River Paper -- Keep up with the world of inkjet printing, and win free paper, by liking Red River Paper on Facebook.
inkdot Innovative printing output and accessories for the creative photographer. Visit www.inkdot.com today.
MacPaw Creators of CleanMyMac 3 and other great software for Apple computers. Visit www.macpaw.com today.
The Nimbleosity Report
Do you want to keep up with the best content from The Digital Story and The Nimble Photographer? Sign up for The Nimbleosity Report, and receive highlights twice-a-month in a single page newsletter. Be a part of our community!
Want to Comment on this Post?
You can share your thoughts at the TDS Facebook page, where I'll post this story for discussion.